Grabenord's food offering brings Health & Taste together
But first…food
Tastemaking is an art. There's a reason people say that the way to a person's heart is through their stomach; and the most cherished place on earth is your mother's kitchen. 
However, living away from your mother's kitchen can make it very hard to find food that lets you forget about your long, tedious day. It takes a well-cooked meal that is capable of distracting you from whatever's on your Netflix and makes you appreciate what's on your plate. 
So when Grabenord's founder and anime enthusiast, Shalin Talajia mentioned how their products are crafted prioritising the mouthfeel and texture, it caught my attention. One can only pay that attention to detail when they appreciate food themselves, right? But that wasn't the only reason that made me go out of my way to try what Grabenord had to offer.
The struggle is real
As humans grow older, their body's capability to digest lactose [the enzyme present in dairy products] decreases, manifesting itself in terms of nausea, bloating, abdominal cramps or constipation. In some cases [like mine], it may cause your skin to break out.
Multiple pieces of research indicate that about 60-65% of India is lactose intolerant. While people continue to consume dairy products without it causing any substantial health problems, only 18% Indians can statistically digest lactose completely. 
When my lactose intolerance peaked, it left me switching between half a dozen skin products which did nothing to help my unprecedented acne, indigestion and the low self esteem that came with it.
Enter: Grabenord
Shalin has a similar story that began in 2018, when, on his wife's advice, he decided to give up milk due to deteriorating skin and health issues. Inspired by the difference it made for him, he wanted to create a platform that promoted brands that were vegan or sourced organically.
Two years ago, a friend and I ordered a cheese-burst pizza to celebrate the COVID second-wave relaxation. That was the last time I ever had one. It is one thing to joke about how no lactose-sensitive person ever takes their lactose intolerance seriously – and another to personally go through the repercussions of consuming dairy, the effects of which can continue to appear for weeks. Therefore, the prospect of trying cheese which wouldn't give me days of constipation and weeks of acne was nothing short of revolutionary for me.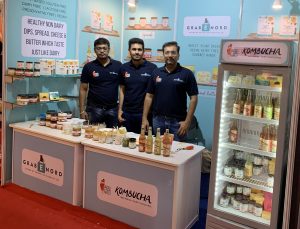 Taking Shalin's recommendation, I bought Grabenord's Cheddar cheese slices and slapped two of them on my sandwich the next morning. If there's one thing that the brand gets right, it's their vision for good taste, while not compromising on the organic content. I had no idea that something made of potato starch and cashews would taste anything remotely similar to cheese, but I was pleasantly surprised. 
Shalin corroborates what I know now. "At Grabenord, our prime focus is the mouthfeel and texture of our products. Through repetitive trial and error, we perfected our products to match the Indian taste palate, a vision at the centre of everything we do." 
What started as a distribution channel for supplying pasta to restaurants in the city led the three to establish Grabenord, a brand that was India's first to introduce vegan cheesy chipotle sauce. "We also want to debunk the myth that cashews cause high cholesterol. Any plant-based ingredients, even those high in saturated fats, do not spike up LDL [bad cholesterol]. If anything, it made mine go down significantly." Shalin says. 
While working as the Retail Business Head for GEO-Fresh Organic, where he also met  Nirav (who would later become co-founders with him at Grabenord), he realised that there are other organic products that help reverse the effects of dairy, leading them to add kombucha to Grabenord's offerings. 
Not a Fad, but the Future
To most of us, the food we eat is a big part of our lives – it's not just items off of a menu, it represents traditions and our way of life. Therefore, it shouldn't come as a surprise when people garner hate for vegans/vegan food options – a challenge Grabenord circumvented around, with the help from their loyal customers who often took the matter into their own hands, addressing hateful comments with both facts and their personal reviews, responding to people asking why the brand was  "telling them what to eat".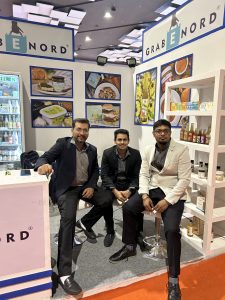 Speaking of what inspired him to start up, Shalin says, "I was shy and introverted in college, weighed about 95-100 kgs, with which came judgement and occasionally, body shaming. The thing that got me through it all was football, and Naruto. The show's main character always looks for the good in people, and if he can find it, he convinces them they are better than the evil inside them – never losing hope that people can always change."
There's nothing purer than art inspiring people to become better versions of themselves, and we certainly can all pick up on Shalin's positivity who says, "My wife says that I'm too positive to ignore reality at times." And sometimes, you've got to be crazy enough to believe, because in the words of a certain pioneer who changed the way we think, "the ones who are crazy enough to think that they can change the world, are the ones who do."