Unlock Professional Relationships with Multplyr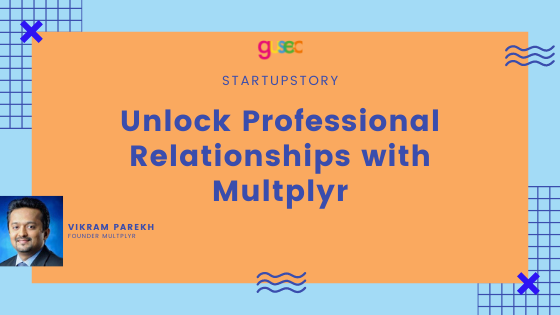 People & Connections 
At a mere 17-year-old, American astrophysicist Neil deGrasse Tyson knew the person he wanted to become when he grew up, after a single meeting with astronomer Carl Sagan. You may often find roadblocks in life swiftly removed when you meet the right person at the right time. In a world that has become a global digital village, it becomes imperative to connect to the right people, especially if you're looking for opportunities to grow and enhance your professional skills. 
With a vision of helping people unlock the potential of their immediate networks, Vikram Parekh and Ravi Vyas founded Multplyr, a social-professional network that unlike other networking platforms, enables users to visualise their relationships across several parameters and makes it easy to break the clutter and get discovered. Originally a B2B recruitment marketing product where it acted as a tool for recruitment agencies to source relevant talent, Multplyr has recently pivoted to directly engage job seekers and provide contingent recruitment services. It uses social graphs and an intelligent recommendations engine to help users find, share and refer talent and opportunities across their networks without compromising their privacy.
Coding, Architecture, Coding 
Brought up with three elder sisters, two of whom became doctors and the other who became a lawyer, Vikram ended up being an outlier. However, enrolling in a coding class in school made him realise that he liked it, and subsequently began coding games and progressed to animation. "But this interest was stunted, as coding wasn't quite sought after in the 90s," Vikram says.
After finishing his bachelors in architecture, he convinced his father to let him go to the US to pursue a Masters degree in Information Systems. "I could finally pursue my liking to build things," he says. Even when Vikram didn't have a good idea to pursue, he always had an entrepreneurial appetite. He kept his mind open to finding solutions to problems and new ideas to work on. "I always had an urge to start my own company, sometimes for the wrong reasons. I would find a solution and try to reverse engineer it to find what problem it was solving. It was like a solution trying to find a problem."
Struggling, Solving Problems & Starting up
Things changed with Multplyr. Vikram pitched the initial idea for Multplyr to Ravi, an ex-colleague at JP Morgan who validated it from a recruiter's perspective and became his co-founder. He says it was a tough decision to quit their jobs and establish Multplyr, "but the thought that if I don't do it I will always regret it eclipsed all our doubts. Ravi & I believed in the problem and were passionate about solving it."
"We knew that we're entering a competitive and congested talent acquisition market, and didn't want to build yet another job-searching portal. Through Multplyr we wanted to help people focus on the network that matters to them, and that you don't need several thousand connections to find your next opportunity," Vikram adds.
However, reaching where they're today was anything but easy. "One product does not satisfy every buyer and as a problem solver, we kept going back to rebuild. Our greatest challenge has been to get out of this perpetual build mode and achieve organic growth for Multplyr," he continues, "We have completely revamped the product since we first started out. We've always kept the customer at the centre and have refrained from trying to scale prematurely. We tasted success in bits and pieces, realised it wasn't scalable and went back to rebuilding the product" he remarks.
Having put a lot of work and capital into Multplyr for two years, they didn't give up even when it didn't yield results as fast as they'd hoped; and soon enough, saw positive results. They got incubated at GUSEC and were able to leverage the MeitY grant and network with other like-minded peers at GUSEC and get their help whenever they were stuck with some aspect of their business. Multplyr is now a part of the Oracle for Startups program, has a few leading global enterprises as its clients and is on its way to scaling both its product and service business.
In life, as in coding, we're all born with a set of parameters, restrictions and limitations, that influence our actions and mould us into the people we end up becoming. But sometimes, some people, like Vikram, choose not to let the parameters define them, and that can make all the difference.