The Story of an 18-year-old's Idea that is Transforming the Weighing Industry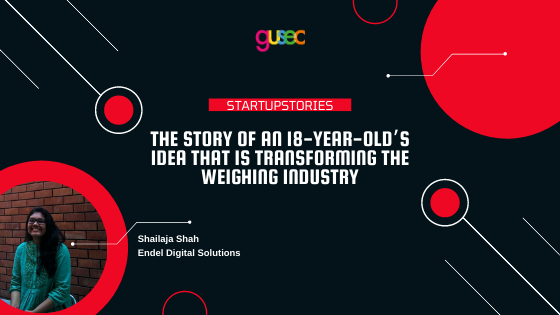 The Next Entrepreneur Generation
Say what you want about Generation Z, but they have the potential to dare and dream, and every once in a while, might surprise you. Various studies have suggested that Gen Z is slowly emerging as the new entrepreneur generation. Encouraging mindsets to think beyond the boundaries of possibilities, GUSEC is no stranger to centennials paving the way forward in the startup ecosystem. 
At 18, Shailaja Shah, while pursuing her undergraduate degree in Dubai, happened to visit her father's workplace in Dubai, a company in the weighing industry employing weighbridges and scales for industrial goods. With an intention to help out, she frequented her visits and in due course of time, made an interesting observation. "I noticed how people would talk about weighbridge theft slowly becoming rampant and I wondered what could solve that problem."
Solving the Weighbridge Theft Problem
Shailaja then came up with a solution and approached her uncle, a technology evangelist and asked if the solution was viable. She went to work on the same part-time while finishing her graduation and co-founded Endel Digital Solutions in 2019. Explaining the importance of the digital weighbridge solution, she says, "In a traditional weighbridge system, an operator manually records the weight that a vehicle is carrying. However, this gives way to numerous possibilities of operator-led or truck-driver-led theft especially in mines and large factories.
Shailaja says that weighbridge software can eliminate thefts completely.  "Weighbridge software is usually developed by large MNCs which don't allow for any customisations and sell the standard version at exorbitant prices, which most weighbridge companies cannot afford. This is where Endel Digital comes in." 
Endel Digital Solutions, founded by Shailaja & Jigar Shah, is a digital weighbridge software company that eliminates the need for human intervention in weighing processes and provides higher accuracy. The software automatically captures the weight, bringing transparency to the process, making it impossible for an external agent to tamper with the figures. "Human intervention can cause significant damage to a company. Especially in industries dealing with packaged goods, one missing carton results in substantial loss, while recurring theft impacts the efficiency of the industry greatly."
The Road Taken
But where did Shailaja's instinct to cause a difference kick in? "My father comes from a humble background, but he always ensured that his kids got the best education. I studied at Ahmedabad International School where everyone came from well-to-do families and realised the privileges I took for granted in school when I saw the everyday hardships of college students in Dubai. Dubai may seem like a glamorous place to an outsider, but it exposed me to the fact that I had things that some people can only dream of, and that changed me as a person. I realised that even if you have a lot of privileges, you need to make sure that you work hard to feel worthy of what you have." Shailaja says.
Shailaja says that she always had a lot of ideas but never had the conviction to follow through on them, but this insight pushed her to do more. She admits that she still has a lot to learn, but even at 21, she understands the struggles of a startup. "We're a young company and I have to be fiercely dedicated to taking it forward. One cannot take a cavalier attitude while working in a startup."
"I realise that I have a lot to learn, especially in terms of being confident about myself. Although, being in the nurturing environment at GUSEC helps a lot. GUSEC not only introduced us to the startup network of Gujarat but also made us realise that we could explore synergies with other incubated startups." she remarks.
Born in the midst of an information revolution, Gen Z inherited a world that is more chaotic than ever. Even though they may complain about things that may seem like trifles when compared to the struggles of the generations before them, they see and feel more. They've inherited a broken economy and an environment that continues to deteriorate. It is imperative that instead of pointing out how they're "always on their phones", they're pushed to use the resources available to them; encouraged to ponder, question, and wherever necessary, dissent from the status quo.