Two GUSEC Startups selected under HDFC Bank's SmartUp Programme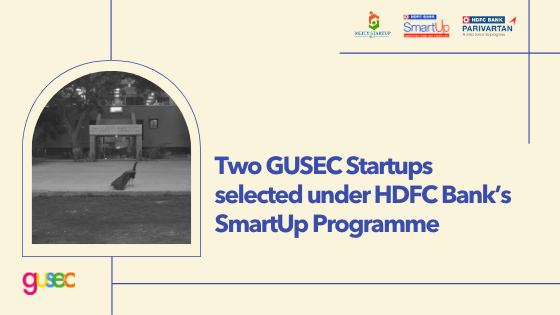 We're pleased to announce that two GUSEC startups made it to the final list of 21 startups that were chosen as the beneficiaries of HDFC Bank's SmartUp Programme for startups. SciKnowTech and IEI Didactics, both Ed-Tech startups incubated at GUSEC, made it to the final list of beneficiaries out of a total of 600 applicants across the country.
Launched in early February this year, the SmartUp Programme allows startups in the Ed-Tech and Skill Development sectors to leverage HDFC Bank's CSR funds. The Programme is implemented through nine national incubators across the country, with GUSEC representing the state of Gujarat. 
Two rounds of evaluation were conducted by the HDFC Bank, with the first round closing in on 600 applications across India. The second round, chaired by top officials of the Bank screened the shortlisted entries and gave 60 startups the green flag into the final round, where 21 were ultimately selected as the final recipients of the SmartUp Programme benefits. 
About the Awardees
Dr Megha Bhatt founded SciKnowTech with the motto 'exposure leads to exploration; and exploration, to innovation'. Inspired by the Montessori class system in the US, she along with her husband Saleel developed a pedagogy in children upto Grade 8 that introduced them to 'different languages of learning'. On receiving the grant, Dr Bhatt remarks, "Being the finalists of the programme beside startups from IIMs and IITs, it was exhilarating to know where we stand. I'm glad that we exposed ourselves to competition that led us to exploring our true potential, much inline with our motto!"
IEI Didactics was started as a freelancing firm to impart life skill education to students using activity-based training programs, activity kits and membership programs. IEI refers to 'Inspire, Explore and Innovate' which is the pedagogy that the startup follows with online programs and activity kits. It currently serves more than 1000 kids, parents and teachers with their soft skills building programs across Gujarat. Speaking about winning the grant, founder Dhruv Ramaiya says, "Getting to know that we were selected for the HDFC SmartUp Grant got our entire team super excited. We felt like our dream of making activity-based life-skill education affordable and accessible to every student was finally turning into a reality."
The SmartUp Programme & Partnership with GUSEC
In February this year, GUSEC & HDFC Bank entered into a partnership to support startups in a variety of sectors through the CSR Funds of HDFC Bank. The HDFC SmartUp Programme aims to create a primary-level impact on development spaces. Currently in its fourth year, the programme has supported about 70 startups working across a multitude of sectors. Established under Parivartan, the Bank's CSR brand, the Programme aims to find and deploy long term sustainable solutions.