RecycleX: Redefining Sustainable Plastic Management with Innovation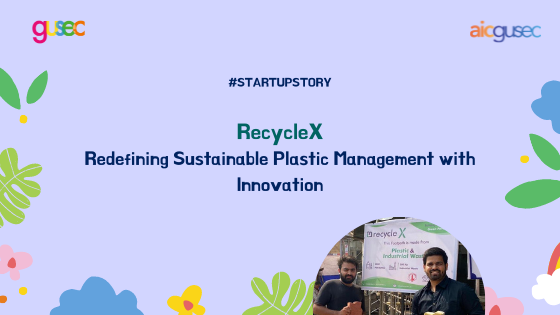 Life Cycle of Plastics
Two plastic carry bags are put under observation after they're manufactured. When they're discarded after use, one finds its way into a landfill site where it is half-chewed by a grazing animal and finds its way to the animal's gut, ultimately killing it, while the other is picked up, segregated, and utilised to manufacture cement block, eliminating its capacity to cause harm to the environment while being put to good use.
The drastic change in the fates of the two bags was brought about owing to the simple fact that someone, somewhere decided to do something about it.
Enter, RecycleX
RecycleX was founded amid the pandemic when Vedant Gandhi, a construction material expert based in Germany got in touch with Abhishek Chhazed, an innovation enthusiast and a plastic recycling expert, and decided to pool in their expertise and shape it into a startup. Working with a prototype Abhishek had previously made in his 3rd year of college, together, they built a prototype with improved functionality and appearance. RecycleX uses industrial/construction & demolition waste and converts it into 100% eco-friendly recycled sand and aggregates.
"The neighbourhood of my home would always be littered with plastic and vegetable waste. On one occasion, I noticed a shuddering cow, who was dead the next day. The bovine had unquestionably, consumed plastic. But the moment of true revelation for me was witnessing landfills filled with plastic. We saw it and thought, even if we could empty this one landfill, utilise this waste and convert it into something useful, we'd be making an impact in the world. Today, we not only put waste to use but also conduct waste collection drives, hold social and skill development programs, and build toilets through our NGO, Swachhalay" Abhishek says, sharing his vision.
Small Starts, Big Impacts
Even as a fifth-grader, Abhishek displayed entrepreneurial skills. "We had a retail sari shop, and a prevalent problem we faced was rodents chewing through the cloth, rendering them useless. I suggested that we use the torn sarees and make cloth bags to sell the sarees in, which not only put the spoiled sarees to use but also made us the first shop in the area to be giving out shopping bags made out of cloth". In 10th grade, he made a project on how Inga trees, native to Africa, could be introduced to Indian soils to enhance their fertility and boost crop yield, the project winning him district and state-level accolades. "I always wanted to work on projects with real impacts, "  Abhishek remarks.
"We first began pitching our vision to government officials in October 2020 and offered to do a pilot with the Bharuch Municipal Corporation, laying around 300 sq. ft. of our product around the prime locations of Bharuch, Gujarat. Working with the government, we realised that while they are conformist & follow rules and procedures which delays things, they were surprisingly supportive of new ideas and helped us in their own capacities."
For their commendable work with waste, RecycleX won the India-Australia Circular Economy Challenge organised by the Atal Innovation Mission and were felicitated in the presence of Prime Ministers Narendra Modi and Scott Morrison. They were also finalists at the Circular Economy Challenge, Europe.
Abhishek says that a startup ecosystem is a powerful place for change. "When we first announced our plans with RecycleX, we had support pouring in from everywhere. We felt that AIC GUSEC that especially supports social entrepreneurs was the best place for us to be. From mentorship support to putting us in touch with the right stakeholders, it helped us share our vision with the right people."
Creating Real Impact
Recycled about 200 tonnes of industrial waste
Recycled 25 tonnes of plastic waste
Produced 1,25,000 paver blocks and 20,000 bricks out of recycled waste
Saved 120 tonnes of Carbon Dioxide 
Plastics: Then & Now
When asked why one should pursue entrepreneurship, Abhishek has an interesting insight. "The problems are so visible, and people not doing anything about it makes them big opportunities to grab. Think about how everyone kept talking about how electric vehicles are the future but Elon Musk was the only person who ultimately began building them." 
Speaking of making a change through RecycleX, Abhishek says, "The post-pandemic world has more plastic than ever. PPE kits, masks and people working from home have added to the volume of waste. People are more aware of the quantum of the impact of waste, but that alone cannot make a difference. We're the most developed species and are single-handedly destroying the planet. We need to take drastic measures now to avoid drastic repercussions later. We have the power to turn it around, and with more power, we have an even bigger responsibility. We truly are, in the endgame now."