GUSEC supported startup "Booz Scooters" features on Shark Tank India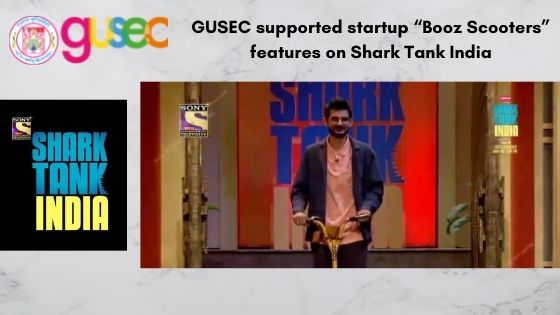 AHMEDABAD, DECEMBER 21, 2021: Ahmedabad-based start-up Booz (HelloSkate Mobility) featured on the very first episode of Shark Tank India. Incubated at Gujarat University Startup & Entrepreneurship Council (GUSEC), Booz Scooters, founded by Rutvij Dasania, is a micro-mobility start-up that was curated keeping in mind the trouble of commuting in large premises, viz. University campuses, business parks, townships, and corporate offices. 
Two Sharks Ashneer Grover, (Co-founder, BharatPe) and Vineeta Singh (CEO, SUGAR Cosmetics) found Rutvij's pitch impressive and invested INR 40 lakhs for 50% shares in the startup.
Shark Tank, originally a popular American business reality TV show, is a multiple Emmy Award-winning series where notable and established entrepreneurs are present as sharks, with entrepreneurs pitching their start-ups and gaining investment from the panel of judges. Shark Tank India made its debut on Indian television on December 20, 2021, and is aired on Sony TV. 
"Many asked me why did you give away half of the company to two sharks and I conveyed that it's not about giving away the half but the company is now full by having 2 super sharks Ashneer and Vineeta onboard and with their experience and connects, Booz will definitely be India's best urban mobility experience company and the recovery from the pandemic will be even faster," Rutvij said.
A native of Bhavnagar, Rutvij founded Booz to solve his own short-distance commute problems without having to buy a vehicle and in his third year of engineering, began working on a cost-effective and attractive solution with a few like-minded innovators. In just one year, Booz went from being ranked amongst India's top 3,000 start-ups at IIM Calcutta's 'Smart 50', to being ranked Eastern Europe's top 100 start-ups at Startup Turkey organized by Etohum, and was also included in Top 500 Start-ups in India by India 5000.
"It is indeed a proud moment for GUSEC and our entire startup community to see our founders making it to the Top 120 pitches selected for telecast out of 60000+ such applications. It goes on to show how far the startup ecosystem of Gujarat has come over the last few years," said Rahul Bhagchandani, Group CEO of GUSEC.