GUSEC efforts during COVID-19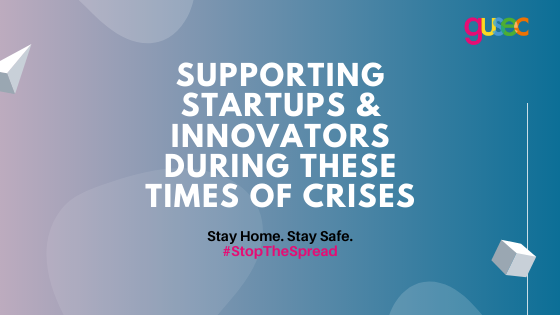 Sir Isaac Newton developed his research on the laws of Gravity during the Great London Plague of 1665. Albert Einstein propounded his theory of Relativity during the First World War, and humans landed on the Moon amid the looming tensions of the Cold War. It wouldn't be wrong to say that visionaries work twice as hard during times of a crisis.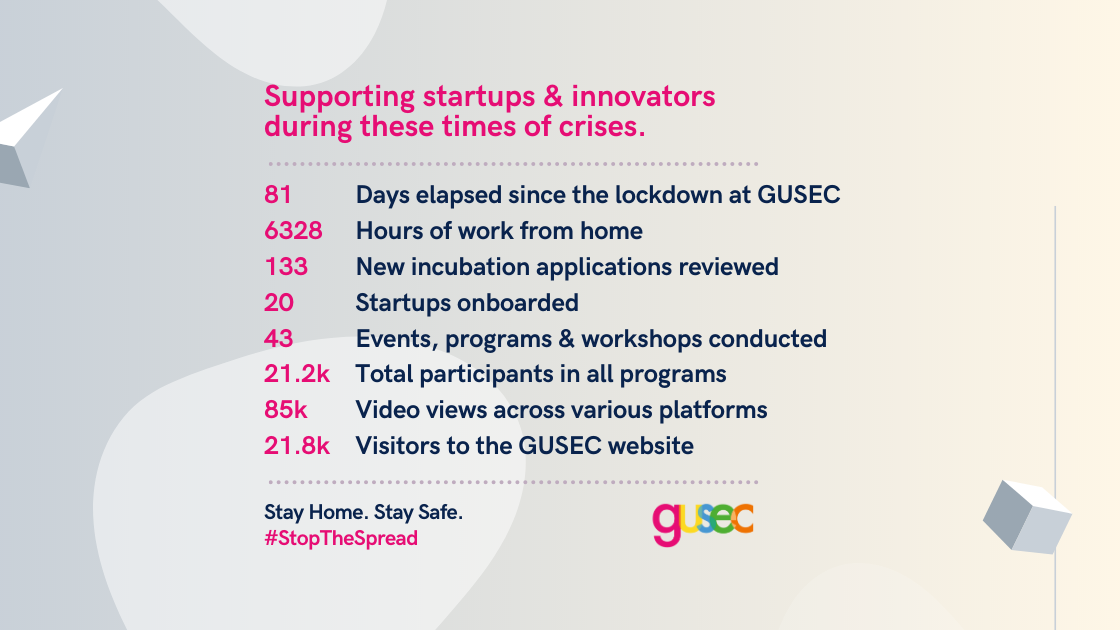 But with a little help, visionaries don't just survive – they thrive. With that premise, we at GUSEC do all that we can to aid the visionaries it is associated with. It has been 81 days since the commencement of the nationwide lockdown due to the SARS-CoV-2 virus, and instead of buckling down, we've only hustled harder.
In a span of two months, about 43 events have transpired at GUSEC, some of which include:
Expert sessions

on sales & marketing, crowdfunding, team building, digital marketing strategies, customer acquisition,

Mentor sessions

on building scalable & successful startups, survival strategies, benefits for startups under MSME Schemes,

Expert Fireside chats

on sharpening leadership skills tips on building a luxury brand from scratch.

Workshops

on no-cost designing and IPR awareness

Virtual Dockning sessions

for both our newly incubated and existing startups

Interaction sessions with innovative children of the Children Innovative Festival

for our young entrepreneurs.

Webinars with dignitaries such as Shri Suresh Prabhu & Dr Karan Jani, both of whom implored students and startups
Liftoff

to help newly-incubated startups get warmed up to the startup ecosystem

STARTFest,

which invites innovative ideas from the Gujarat University ecosystem

Collabinar

and

Activate

, which consists of events directly addressing the aftermath of the pandemic

Special address

by the Cabinet Minister of Education Shri Bhupendrasinh Chudasama & the Principal Secretary of Education Smt. Anju Sharma on challenges posed by COVID.
These events have witnessed about 21202 live viewers amassing 85118 views across various platforms.
In furtherance of inspiring people to rekindle their spirit of innovation to help mitigate the effects of COVID, GUSEC inaugurated the Breakthrough Accelerator on April 02, 2020, which saw over 448 applications, 27 of which have been shortlisted and 21 have been recommended for funding support. Funding support of Rs. 30 lacs is currently under process.
Not just that, GUSEC launched the Continuity Accelerator, a twelve-week program launched to assist our startups in solving the operational repercussions they're facing as a direct result of the pandemic by availing one-on-one mentorship, group interfacing and rapid support. About 47 applications were received for the same and 21 startups have been selected which will be provided with the assistance they require towards successfully combating the effects of the pandemic.
GUSEC has continued to receive new incubation applications, 133 of which have been scrutinised, and 20 new startups have been onboarded. For these continued efforts to engage and inspire people to innovate, GUSEC has garnered over 25,900 visitors to our website and has garnered about 400,000 impressions on social media. 
GUSEC has continued to support startups and innovators across all arenas, from the disbursement of funding, mentorship & guidance, facilitating connections and collaborations through various programs and meetings; to onboarding new startups after thorough scrutiny, continued efforts towards IPR awareness and providing access to handy tools, and free access to unlimited Coursera curriculums for those who like to get their geek on.
But making all this happen wouldn't have been possible without the relentless dedication, diligence and perseverance of the spectacular team at GUSEC, which has worked as many as 6328+ hours from home, continuing to collaborate, brainstorm, initiate tasks, events, webinars, and efficiently and rapidly checking things off their to-do list and continuously adding new ones to it.