GUSEC Startups Dominate the Global Student Entrepreneur Awards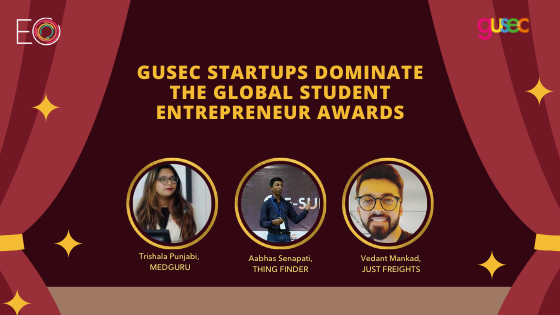 It was a moment of immense pride for GUSEC when three of its startups, MedGuru, Thing Finder, and JUST FREIGHTS landed the Winner, First Runner-Up and Second Runner-Up positions respectively at the Global Student Entrepreneur Awards (GSEA), a premier competition for student entrepreneurs across the globe. 
The GSEA are organised every year by Entrepreneurs Organisation (EO), an organisation that has been helping entrepreneurs across countries achieve transformational growth since 1987. EO GSEA supports student entrepreneurs who require recognition, connection and mentorship to scale their startup to newer heights. This year, GUSEC was EO's Event Partner in organising this year's GSEA along with Gujarat Chamber of Commerce and Industry (GCCI) as the Industry Partner.
Trishala Punjabi, founder of MedGuru was declared the winner of this year's GSEA (Gujarat) region and was awarded ₹1,00,000 as prize money. MedGuru is an online platform that facilitates medical education for students through video lectures, animated modules and special crash courses to help students revise the syllabus before their exams.
Aabhas Senapati, a 15-year-old innovator incubated at GUSEC through Children Innovation Festival 2019 stood as the First Runner-Up for his startup Thing Finder, a device that helps you find objects like keys, wallet, etc that are often lost easily. Aabhas was rewarded with the prize money of INR 50,000. Read about Aabhas's journey of innovation here. 
Vedant Mankad, founder of JUST FREIGHTS bagged the Second Runner-Up position along with prize money of INR 50,000. JUST FREIGHTS is playing a major role in digitising the freight industry and is an all-in-one customer engagement, market automation and operation management platform. Read the story of how Vedant and his twin sister built their startup, here.
It is worth mentioning that five of the six finalists at the GSEA this year were all GUSEC startups.
GUSEC congratulates the winners on their well-deserved accolades and takes pride in supporting their innovative endeavours.