One of GUSEC's youngest wins big at MIT COVID-19 Challenge

Four months ago, if someone told me that I could go to a bank wearing a mask and not rouse any suspicions, I would certainly have laughed in their face. Today, it has become the norm of the day. While it is no secret that the SARS-CoV-2 Virus has forever dismantled the way we've lived our lives till now and reduced the mobility of sectors like travel, aviation, hospitality, etc., it also has had constructive consequences at the outset. People today are more vigilant about personal sanitation and have begun to value things that they previously took for granted. Many organizations across the world have come with ways and means to help populations cope with the toll the pandemic has taken. 
Similar to GUSEC's own Breakthrough Accelerator that is now supporting 21 startups solely working to mitigate the after-effects of the coronavirus outbreak, the Massachusetts Institute of Technology announced a "Beat the Pandemic" Hackathon that commenced in early April. We are proud to announce that Aabhas Senapati, one of GUSEC's youngest entrepreneurs, a 15-year-old innovator who first got incubated at GUSEC with 'Thing Finder' in July 2019, secured a place amongst the 40 winning teams. 
 The Challenge in Brief
The second installment of the MIT COVID-19  "Beat the Pandemic" Challenge Series commenced on May 29th, 2020, with the goal of ideating implementable solutions associated with the array of problems birthed by the global pandemic, and were mainly divided into two categories: a) 'Recovery & Reopening' and b) Predict, Prevent & Prepare, both of which were further divided into four sub-categories each.
About 1750 volunteers (1500 hackers and 250 mentors) hailing from 96 countries took part in it. 48 hours later, the participants came up with 199 potential solutions. An amount of 20,000 USD was awarded to 40 teams with the most promising solutions.
Meet the Entrepreneur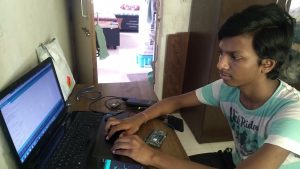 , currently a 10th grader, first got drawn into innovation three years ago, while attending a workshop on assembling simple line-follower robots. This is where Aabhas was first introduced to the concept of the integration of hardware with software and its real-time applications. He then got incubated at GUSEC in July 2019 with 'Thing Finder', a piece of equipment that helps people, especially those afflicted with amnesia, locate their easily-misplaced regular items like keys and wallets. In November 2019, Aabhas' 'Emergency Guidance and Notification System' (EGNS) also got selected for support at the Children's Innovation Festival organized by GUSEC.
 'Green Joy'
Aabhas keeps abreast of all updates from MIT and plans on enrolling there as a student one day. He applied for the first event in MIT's 'Beat the Pandemic' Challenge, and then in MIT's 'Africa Takes on COVID-19'; but finally got through in the second event of Beat the Pandemic Series. Aabhas teamed up with Michalis Antoniou (Cyprus), Nupur Gupta (Canada), Chisom Nneli (Nigeria), and Anand Thirunavukarasou (India); and together they came up with Green Joy, the purpose of which is to encourage people to engage in gardening and develop a sense of purpose and positivity in them by reconnecting them with nature. It is a sensor-based kit that gathers data related to a plant and provides the gardener with information about  nutrients that the plant lacks along with reminders to water the plant, which will have a reward-based system. The more you take care of the plant, the higher you go in the points system. One can also scan the plant for diseases, and what household material could be used as compost to provide for the missing nutrients. This engages the person in a more fruitful activity, thereby elevating their mood.
Aabhas first came up with the idea back in 2018, when he participated in MakerFest Ahmedabad, wherein he presented his project on automatic plant watering and field monitoring systems. During the Hackathon, Aabhas realized too late that the track he had chosen (adjusting to the new normal) wasn't related to his domain of electronics, IoT, or robotics; but instead dealt with helping people adjust with stress, anxiety, and PTSD during the unprecedented lockdown. The project gave Aabhas a new perspective on how an existing solution could be utilized to meet new demands, one which can be used to help people develop healthier habits. The idea was primarily conceptualized by Aabhas & Michalis, while the other three members proved instrumental in helping them prep for the idea pitching.
The team finally made their place in the final 40 and were rewarded with prize money of 500 USD (approx. ₹37,000). The prototype for their idea is ready and they're currently working towards the MVP of the product. The work on the same is now on hold because of Aabhas' upcoming board exams, but the team plans on finishing the updates they need to make on their software as well as make other required embellishments based on the suggestion of their mentors.
If nothing, the only lesson we may take from Aabhas' inspiring story is the fact that there is no age to start following your dreams, no boundaries to innovation and exploration, and there are absolutely no mountains you can't cross if only you can see your goal clearly enough and are bold enough to follow them.
Want to know what we're up to? Subscribe to our newsletter.