Together We Stand, Divided We Fall – A case for co-working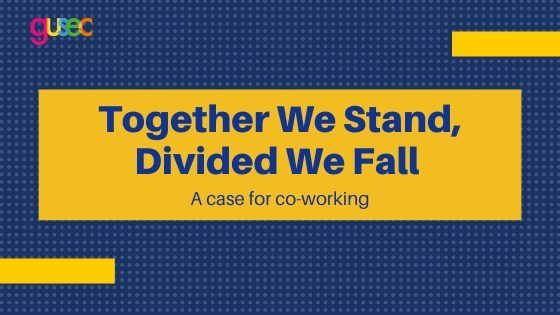 Incubation Centres – Yay or Nay?
In October 2016, when we launched PreBOO, I wasn't very well-versed with how startup incubators work, or why would an entrepreneur need to get incubated at all?
In the startup business, you don't really know what works and what doesn't. The nuances of this field are as vague as the term 'entrepreneur' itself. For example, while some people will tell you the term 'entrepreneur' is borrowed from the French word entreprendre (meaning to undertake), others will tell you it was inspired by a Sanskrit word antarprerana (meaning inner inspiration). The etymology is endless.
When you take the road less travelled, the most you can do is chart your path, and keep moving. Although there is no sure shot guide to becoming a successful entrepreneur, one thing that I can tell you for sure is that it is always easier to "get by with a little help from friends".
The Benefits
Had I been on my own, engaging with other entrepreneurs wouldn't have been as smooth as it turned out to be, something which was only made possible because I was a part of the startup ecosystem. You always need tools like Canva or Envato Elements to make good graphic designs, or Biteable to be able to edit videos according to your need; imagine having to have to pay for these out of your budget, or paying rent for a minimally satisfying workspace! A startup in its initial phase already has enough problems, and you cannot afford to spend your capital in overhead charges like these. A startup incubator helps you not only save money on these but also gives you other freebies like free cloud service credits, Hubspot Software Discount, Amazon Web Service credits, to name a few.
Some More Benefits
PreBOO is an ed-tech startup and GUSEC, being an integrated part of Gujarat University, gave me an upper hand as I was able to take the inputs of the education stakeholder society. We've had a lot of ups and downs in our business, but those insights proved instrumental in helping us pivot our business and delivery model and the product itself to accelerate the cognitive learning of our users. 
The crème de la crème
Nevertheless, the most vibrant part of being a startup ecosystem is being able to meet so many people, all in the same place for the same purpose: working on their dreams. If you're lucky, you even get to meet founders from sectors related to your enterprise that help your startup collaborate and advance at an even bigger speed. Startup founders help you gain industry insights and business operations that you would never be privy to if you're on your own. I got to interact with all of them more so after the pandemic commenced, through Docknings, which are sessions that aid communication and provide aid and are organised by GUSEC. 
In our four years of incubation, I made a lot of friends, from the staff as well as other incubated startups, especially Vatsal of Odinub, Bhavini of Outliers Publishing, Amish of Visity, and Amit Panchal, a mentor at GUSEC. Amit helped me advance in terms of SEO and social media aspects of my business. I was also a core member of the founder gatherings that took place before the lockdown. You find great insights into the experiences of people who have already been at the stages and junctures that you are going through or will go through in the future. I'm about to graduate from GUSEC soon, and I'm not exaggerating when I tell you that I feel like I'm leaving my home. 
I don't need to tell you, it's always a good feeling to belong to a community. And in a field like entrepreneurship, it doesn't hurt to make a few friends along the way.
Subscribe to the channel to get free access to dozens of resourceful videos on startups, patent-filing, IPR, innovation, and lots of other free content, exclusively curated by GUSEC.