Announcing the Roadmap for GUSEC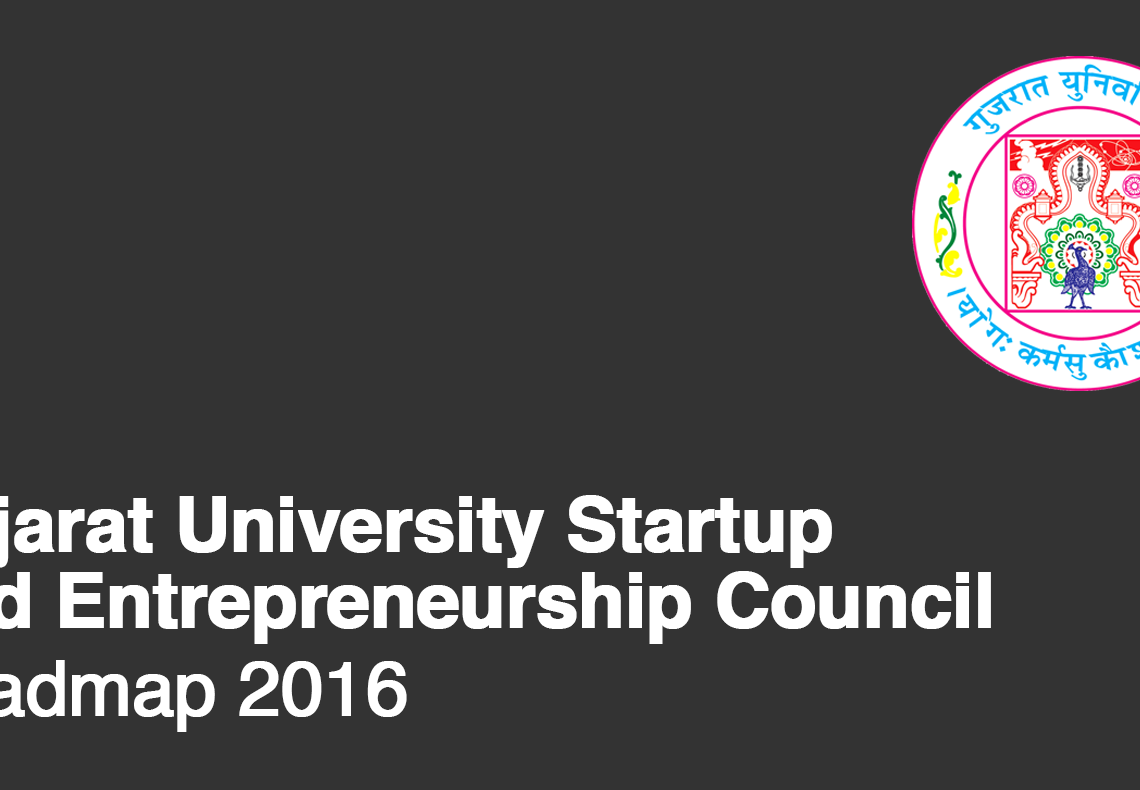 On May 5, 2016, Vice-Chancellor Dr. MN Patel presented the following overview of the roadmap for Gujarat University Startup And Entrepreneurship Council (GUSEC) to members of the media, incubated startups, senior faculty members of the university and other stakeholders of the startups ecosystem.
Brief background regarding GUSEC
Since July 2015, Gujarat University has taken efforts to support startups, entrepreneurs and innovators at university campus, as well as taken efforts to build a cohesive startup ecosystem in the state of Gujarat

In August 2015, the administration constituted GUSEC officially under the university system

Education Minister Shri Bhupendrasinh Chudasama chaired two pivotal meetings for the Gujarat startup ecosystem in August-September 2015, including a roundtable of all Vice-Chancellors of Gujarat

Between November 2015 and January 2016, Gujarat University partnered with Entrepreneurship Development Institute (EDI) to carry out sensitisation of students across several GU affiliated colleges in Ahmedabad and Gandhinagar

In February 2016, education ministers of Gujarat inaugurated the GUSEC Building which includes the co-working space of GUSEC

Since March 2016, more than 15 startups have been incubated at GUSEC Co-Working Space, most for any incubator or co-working space in Gujarat, making GUSEC the fastest growing incubator and co-working space in Gujarat

More than 30 qualified startups have thus far applied to join GUSEC and soon, the centre will operate at 100% capacity
GUSEC objectives
GUSEC is the first incubator and co-working space in India that's taking efforts for supporting non-tech startups and innovations

GUSEC has been instituted to play the role of a top-notch facilitator in the startup world, and is accepting applications from not only GU students, but also from entrepreneurs of all backgrounds and industry verticals, thus helping the Gujarat Startup Ecosystem

GUSEC is providing hand-holding support to each entrepreneur associated with it

GUSEC is also building a Mentor Board that will have hundreds of industry leaders and subject experts from across India. These individuals may not be easily accessible by entrepreneurs or innovators, but GUSEC will help its incubated startups have direct access to such subject experts for mentorship

Today, GUSEC is a completely community- and student-driven institution. The inputs of students and entrepreneurs at GUSEC will be of paramount importance to the university and the system will continuously adapt to the needs of the end-users
Association with GCSRA
Last week, 20 GUSEC startups pitched to receive seed funds from Gujarat State Seed Corporation via the Gujarat CSR Authority in an event organised by GUSEC and EDI, and 12 startups received grants of Rs. 40,000 each. 7 others have qualified for the 2nd round

Through an integrated MoU that has been signed between Gujarat University and Gujarat CSR Authority, the university expects more collaboration with GCSRA for promoting entrepreneurship and innovation activities through GUSEC
Outreaching to 3 lakh students
GUSEC, from the next academic term of 2016-17, will also start outreaching to all 300+ institutes affiliated to Gujarat University, where a student team and a faculty coordinator will execute GUSEC's objectives

All 300+ institutes affiliated to Gujarat University will be provided support to build startup centres and co-working spaces in order to provide support systems directly where students are. This will directly benefit over 3 lakh students affiliated to the university. At least 50 best campuses will be provided extended hand-holding support in order to take entrepreneurship straight at students' doorsteps

The university will also usher in several other interventions across its academic, co-curicullar and extra-curicullar platforms, some of which include providing grace marks and grace attendance for well-performing student entrepreneurs and innovators, option for deferred placements, options for students to take "gap years", introduction of practical modules of entrepreneurship learning in syllabi, ranking affiliated institutes based on how well they support entrepreneurs and innovators, etc.
Research to Revenue & patent support
GUSEC has introduced the concept of "Research to Revenue" where the university hopes to convert at least 5% of research done by university students into commercial, profit-making startups

Already, Gujarat University is supporting student innovators for patent funding and allied processes through support from agencies such as GCSRA and NIF, but GUSEC will soon constitute its own patent and IPR support group to provide a direct, single-window support system for young innovators. GUSEC aims to facilitate filing of at least 50 full patents in the first year
Internal seed funding from university & external funding facilitation
GUSEC will also help its incubated startups take benefits of the Startup Assistance Scheme of the Gujarat Industrial Policy 2015, as soon GUSEC will also be a nodal institution under that scheme. GUSEC aims to facilitate funding support from Gujarat government for at least 25 startups through the Startup Assistance Scheme in the first year

By the end of this year, GUSEC is also keen to establish a DST-supported TBI

Most importantly, the university is also considering allocating a startup seed-fund of up to the tune of 1 crore for startups from university's corpus funds
Startup & Innovation Policy
The university, to formalise and document all its efforts taken under GUSEC will also introduce an inclusive and broad Gujarat University Startup & Innovation Policy to support new-age entrepreneurship, innovation and startups. The core aim of the policy will be to usher in processes and systems to make at least 1% of all students affiliated to the university as job creators by means of entrepreneurship or innovation
The broader objectives of GUSEC
Through GUSEC, Gujarat University wishes to play a crucial role in building the startup ecosystem of Gujarat and the country

The university has a keenness to engage as many external stakeholders as possible contribute to the startup ecosystem of Gujarat and India to build processes, systems and policies at the broad level that are scalable and replicable

Youth of the country today requires to be independent and self-sufficient. It is very crucial that universities play their part in helping students become "job creators" instead of "job seekers"