Meet our Startups from the accelerateBHARAT Programme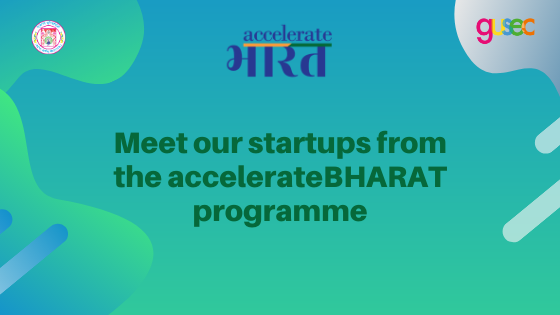 Calling all startups from across the country to put to use emerging technologies like AI/ML, Robotics, IoT, UAVs, 3D Printing, AR/VR/MR and Blockchain in building a technologically-reliant nation, GUSEC inaugurated accelerateBHARAT, its accelerator program for technology startups on October 19, 2020. In the application window spread across a month, the program received more than 1200 applications from more than 90 cities across India. Of the total number of applications representing more than 1800 founders/co-founders, 50% of applications can from tier-2 and tier-3 cities. The accelerator invited applications from sectors like agriculture, healthcare, financial inclusion, infrastructure and transportation, clean energy, environment and education. 
After a scrutiny period spanning an entire month, 48 startups were shortlisted for a bootcamp, who pitched their ideas to a scrutiny committee. In this blog, we take you through the top 10 startups of the accelerator program who shall henceforth be eligible to leverage the benefits enumerated under accelerateBHARAT. 
Nimaya Robotics

Sector: Education
Technology Used: Robotics, IoT
Established in 2018, Nimaya addresses the need for innovation in the domain of special EdTech for children with disabilities. Dr Ramya S Moorthy (Principle Founder & Technology Creator) & S A Srinivasa Moorthy (Co-Founder) were quick to identify that traditional methods of therapy are innovation-starved and expensive, resulting in the loss of progress during the prime years when learning is at its peak. The startup addresses this specific gap through its innovative robotics-based products. 
The startup worked with experts in pre-school education and leveraged the research work, which resulted in a patent-pending new technology known as CAIDS which when combined with an Android system can teach preschool children the English alphabets(without pen and pencil) using augmented display and tactile keying system which not only accelerates learning but also increases retention. Nimaya's exceptional work earned them the India Inclusion Fellowship (2018) and the Pernod Ricard India Foundation Fellowship (2020), among other accolades.
Deep Vision Tech

Sector: Deaf, Speech & Hearing Impaired
Technology Used: AI/ML
After 20+yrs in the IT industry, Jayasudan Munswamy quit his job at Amazon where he worked as a Senior Tech Product & Program Manager, started to ramp-up on AI/ML to develop the first version of his product and during a casual Market Analysis in early 2019, found no solution that enables two-way communication for deaf, speech & hearing-impaired communities. He decided to build Let'sTalkSign with a vision to empower deaf, speech & hearing impaired people to live independently. 
Jayasudan realised that communication Barriers alone impact the lives of millions of people with such disabilities on a daily basis. Even though video captioning and audio transcriptions are useful in other countries, they aren't as impactful in India given the fact that 95% of the deaf are uneducated and only understand sign language. The startup proved its mettle when it secured the fifth position at the STARABLE Challenge for Assistive Technologies and first prize in the demo day pitch presentation at IKP EDEN's XTBootcamp.
Bliscare

Sector: Education
Technology Used: IoT, AI/ML, 3D Printing
Bliscare was founded with a vision of creating a paragon learning environment for students in differently-abled communities by establishing innovative forms of delivery of education. Initially just engineers and tech enthusiasts, Chinmaya Naik & Nikita Kumari had worked with many startups and NGOs that gave them a glimpse into the field. Realising that a technology-oriented solution could simplify the hardships faced by specially-abled communities, they connected with their stakeholders and created a successfully validated and tested low-fidelity prototype. Their product has so far been validated and recognised by institutes like IIT Kanpur, IIT Bombay, IIM Lucknow, and the Governments of Maharashtra and Bihar. They aim to target about 269 NGOs and institutions for the specially-abled across India to enable the differently-abled to lead a more comfortable life. 
E-Vega Mobility Labs

Sector: Clean Energy
Technology Used: AI/ML, IoT
The startup aims to enable products and services in the battery technology space. Initially an e-bike startup, E-Vega partially pivoted to the battery sector after sensing an increasing demand for lithium-ion batteries. After pivoting to the battery sector, Shubham Mishra, (Founder & CEO), Ajay Vashisht (CTO, Ex-DRDO Engineer) and Chirag Rathod (Product Design Lead), met several stakeholders in the field only to realise that there are no standard procedures to test and validate batteries in India, unlike its counterparts in the US & the UK. 
Currently focussing on testing, the startup aims to address this problem while also making a name for itself in the lithium-ion battery market. With increasing emphasis on clean energy, the startup aims to standardise battery testing procedures in the country to make it more systematic and safe. Their innovation fetched them recognition from IIT Bombay whom they also collaborated with under the institute's Energy Swaraj Foundation. 
Learning Matters

Sector: Education
Technology Used: AI/ML
Founded by Ramamoorthy G (CEO), Gowri Mahesh (COO) and Saraswathy R (CMO), Learning Matters is the testament to the will of three individuals who believe that education is one's strongest asset. The startup believes that the only way to create large-scale and long-term positive learning outcomes for students is to mobilise parents and teachers with high-quality tools so they can impart education in a more scalable & impactful way. 
Embodying a comprehensive suite of educational tools, the startup has a virtual voice teacher, a digital content platform, a professional development program and activity kits. The startup has created an indelible impact in the education space, having trained over 2000 teachers during the pandemic, and 5000 teachers over time, not only resulting in educators getting substantial hikes in their pay, but schools employing the startup's tools witnessing a rise in the number of admissions. The startup has many wins to its credit, some of which include the UK-India Tech Partnership Cohort, SASACT 2020 (MeitY) and the Innovative Digital Education Award from India Mobile Congress.
MicroFinance.AI

Sector: Financial Inclusion
Technology Used: AI/ML, Blockchain
Established in 2019, Microfinance.AI was founded by Kapil Patil, a LSE Public Policy Graduate and Swati Sinha, also an LSE Graduate. The startup works to simplify micro-credit through AI-led mobile platforms for underserved borrowers. The startup envisioned developing a completely automated AI-led platform for small and medium-sized microfinance enterprises to help them leverage high-end technology models to scale their operations at lower costs. Realising the fact that conventional FinTech platforms do not cater to the low-income segment, MicroFinance.AI built their product to serve the less tech-savvy, less-literate consumer base while also taking care of their safety concern. 
Towaso

Sector: Environment
Technology Used: IoT, AI/ML, Blockchain
Founded in 2016, Towaso addresses the problem of source segregation from door to door collection and provides data-driven accountability for stakeholders. Towaso envisions to change the way people in India manage their waste through enforcing accountability and incentivising segregation. Having identified the gap between garbage generation and management while still in college, founders Saurabh Kumar (IITian, environmentalist), Soni Kumari (Zoologist, waste expert) and Kapil Suhane (IITian, ex Schlumberger). Currently working with four municipal corporations in Jharkhand, the startup reaches out to more than 100,000 households and is digitising the waste management supply chain. 
For their IoT-powered efforts towards a cleaner and more sustainable planet, Towaso was awarded the Urban Sanitation Hurrah Award in 2016 and was recognised by the Bill & Melinda Gates Foundation India chapter.  
Stempedia

Sector: Education
Technology Used: AI/ML, Robotics, IoT
Born in the dorm rooms of IIT Kanpur in 2017 where Abhishek Sharma, Dhrupal Shah and Pankaj Kumar Verma, founders of STEMpedia developed their first product through international crowdfunding, the startup blends theory with experiential learning to enhance the learning experience of students and also help them leverage the technology-driven tools to creatively enhance their skills.  
Through easy-to-use, real-life application-based kits and toys, STEMpedia's products not only encourage users to learn by doing but also help them stay abreast of technology while making it versatile, avoiding heavy costs required to complete educational projects and saving time. STEMpedia earned its place as one of the seven startups selected by the Motwani Jadeja Foundation for IndiaTechPark, CSE 2020; as the top 20 hardware startups delegation to the UK in techXchange 2018, among many other recognitions.
Whrrl

Sector: Financial Inclusion
Technology Used: Blockchain
Founded in 2019, Whrrl was born when while running a global Blockchain Advisory Council, founders Ashish Anand, Falguni Pandit and Abhishek Bhattacharya learned about frauds in warehouse receipt finance piling as high as hundreds of millions of dollars. The startup works with the dual objective of improving farmers' income by eradicating the menace of "Distress Sale" as well as reducing banking frauds occurring every year in the warehouse receipt finance segment. The founders realised the prevalence of distress sale of agricultural produce among small and marginal farmers, which then results in low crop price realisation and in turn lowers the farmers' income. Whrrl has served more than 3000 farmers through their lending programs so far. For their efforts towards the betterment of the farmers, Whrrl won the Picup Fintech Award 2020 organised by FICCI & India Bank's Association.
Ankpal

Sector: Financial Inclusion
Technology Used: SaaS-based Accounts and Tax Compliance Software
Ankpal works to streamline finance with efficient, accurate and timely accounting services that also help users in compliance with GST, TDS, Income Tax and Company Law provisions. Founders Sanket Thakkar and Ronak Koradiya were a part of IT Development and Marketing at Sanket's former business when they started to face issues with the timely filing of returns, business analytics of his venture and realised the need for a common interface between accounting and filing. 
Different stakeholders employ the use of various different applications and platforms, forcing the data to pass through multiple systems resulting in reconciliation, non-compliance, late filing fees, and makes the work of a consultant twice as much. Ankpal offers a totally automated accounting system with auto-recording of transactions for business, along with tax filing and compliance features.
We believe that the technologies employed by these startups shall go a long way to solving many problems prevalent in today's landscape. In an attempt to create awareness around emerging technologies like Artificial Intelligence, Machine Learning and Augmented/Mixed/Virtual Reality, GUSEC held a series of workshops as a part of the accelerateBHARAT program.