An MBBS Student's Journey Reshaping MBBS Education in India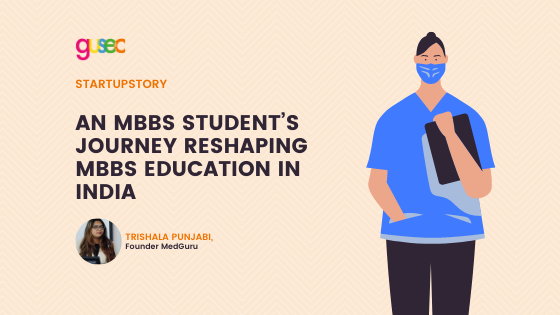 When I asked Trishala how she felt being a part of the startup community at GUSEC, she said something which didn't make sense at first, and then made complete sense. She said:
"I feel like I was a drop of water all by myself, and now I have all these other drops of water all around me" [laughs] "I now know people who understand exactly what I'm doing and what I'm going through. Bottom line, earlier I wasn't sure, but now I know I'm not alone"
I cannot possibly fathom what goes down in the moment one decides to become an entrepreneur, but I picture it like this: Moses parts the Red Sea, asks the newly transformed entrepreneur to dump everything they know about anything, and then the sea closes. The entrepreneur then undertakes a journey through the desert alone, gathering information along the way, and gets to know their vision, their market, and themselves better. 
But you know what's better than walking in the desert alone? Walking with someone. Friends can go a long way in encouraging you to keep going, even on the hottest days in the desert, or when you run out of water, or when you think you're on the brink of the end. Everyone can, like the Beatles would put it, "get by with a little help from friends".
Trishala knew all too well about being by herself. Her parents, both doctors, let her explore activities like skating, drawing, dancing among others to help her find what she liked. But seeing her parents do what they did, a young Trishala already knew that she wanted to walk in their footsteps. Right from the beginning, she did not have a lot of friends but had plenty of books to substitute for them. "I loved children's books. Charlie & the Chocolate Factory was my absolute favourite. Basically, anything by Roald Dahl and Sophie Kinsella. I spent a lot of time in the school library and read whatever books I could get my hands on."
Trishala landed in the same med school her parents met and graduated from, and on her medical career trajectory, applied for the post of the Assistant Regional Director of the Medical Students Association of India (Gujarat chapter). During the application process, when asked what was that one thing that she'd want to do for medical students, she couldn't help but think how there wasn't a single learning platform for medical students, despite there being a dire need for one.
God's Plan
Assistant Director or not, Trishala felt the need to give back to the community. While still distraught about not being able to score the position, her father offered the consolation that stuck with her: "There is your plan, and then there is God's plan. If yours didn't work out, maybe it's because bigger things are in store."
One thing that came to her mind was how notoriously infamous the subject of human anatomy was, and how hard it was for students to even get close to understanding its concepts. "When I thought about the thing that medical students need the most, I realised, it has to be this. It just clicked. Anatomy can't be mugged up, and it's easier if you visualise the concepts, which is what we do in Medguru. I wanted to make it as easy and as smooth for others as possible," she adds. She formally inaugurated Medguru in July 2019. 
Starting up on her journey, Trishala faced a lot of challenges that ranged from finding a good teacher that would simplify learning anatomy, constant bugs in the app and COVID-19 halting their operations. "Once I realised that people needed something like Medguru, I realised I can never really give up. I had an idea and I wanted to act on it. So many people have so many ideas, but never execute them given the problems they face. I believe that the only thing stopping your idea from becoming a reality – is yourself."
Onto Bigger Things
Trishala's vision to make medical education simpler bore fruit and when recently Medguru was declared the winner of the Global Student Entrepreneurship Award (GSEA) for Gujarat region, it has only strengthened Trishala's resolve. "The best thing I realised during GSEA was that the belief I had in Medguru was founded and shared by so many others."
Trishala tells me that she always had trouble making friends given her competitive nature, but always found solace in education. "Learning makes me feel wonderful, and making education better is something that drives me. I felt like no matter what happened, education is my safe space, something I can always rely on. Through Medguru, I want more people to view education as a catalyst to better things, not as an unachievable dream"
When asked about the startup community and if she made any entrepreneur friends, Trishala says that the startup ecosystem opens one's mind to newer possibilities. "Before GUSEC, I had no idea that it was possible to secure grants without equity. It forced me to introspect and make my offering better. I feel like earlier, I was in a bubble of my own and now I'm connected to the outside world. And even though I'm caught up between my exams, the pandemic, and working on Medguru, I'd love to get to know Aabhas (Thing Finder) & Vedant (JUSTFREIGHTS) (runners-up of GSEA) better!" 
Advising young entrepreneurs and all those who dream, Trishala says, "Be prepared for failures, because they're going to be there. But it always gets better. Just keep going. Remember that dialogue from Finding Nemo – 
"When life gets you down you know what you gotta do? Just keep swimming!"