Government Grants for Startups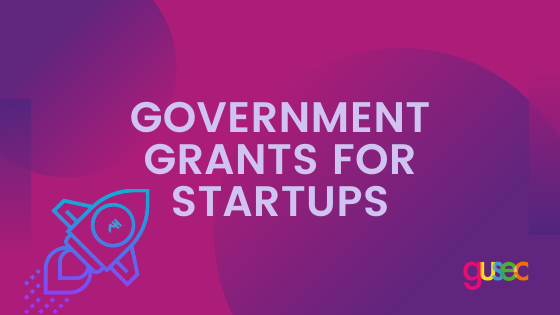 What are some schemes and grants from the Government that entrepreneurs and startups based in Gujarat can leverage to help their startup scale to newer heights? In a session organised by GUSEC, Ankit Dave, AVP of Operations at GUSEC briefs the audience about the various types of grants available for startups to utilise for supporting their innovative endeavours. Read about the same below.
Student Startup & Innovation Policy

 
Introduced by the Department of Education, Govt. of Gujarat, this Scheme allocates upto INR 2,00,000 to develop the Proof of Concept of an idea. The Scheme has basic eligibility criteria listed as follows:
The applicant should be a student or recent alumni (five years) of an educational institution/university 

The educational institution so-referred to above should be a recognised institute or university based in Gujarat

The startup should be in the ideation phase

The applicant should have worked on the idea for at least three months
Although the SSIP offers upto INR 2,00,000 of monetary support, an applicant's idea is eligible for receiving further funds depending on whether the applicant has utilised the formerly allotted funds appropriately and on the merit of their idea.
Furthermore, the process for selection of applicants for the SSIP goes through an established process after the applicant submits their application. Based on the viability, the idea may be selected by a scrutiny committee. Henceforth, the applicant shall be required to pitch her/his idea to the committee, after which the applicant shall be formally incubated at GUSEC after the submission of relevant documents, and the grant shall then be disbursed.
In addition, the SSIP also provides funding support of up to INR 25,000 for filing a patent, which can be availed by any startup as per the definition of 'startup' laid by the government of India. The applicant may reach out to any empanelled facilitator who shall be allotted the amount directly by the government and can henceforth redirect the fund to the applicant.
Scheme for Assistance for Startups & Innovations
This scheme was initiated by the Industries Commissionerate, Government of Gujarat, under the Gujarat Industrial Policy 2020, and provides funding assistance of up to INR 33,00,000, under which a startup can utilise INR 30,00,000 for prototype development and marketing assistance, and can get INR 2,40,000 as sustenance allowance. In case the startup applying for the scheme has a woman co-founder, the startup is eligible for INR 3,00,000. The basic eligibility criteria to apply under this scheme is listed below:
The startup should have completed its Proof of Concept stage

The startup should be a registered company (Pvt. Ltd/ LLP) in Gujarat, and the majority of its operations should be based in the state as well. 

The startup founder should not be the owner of more than 10% shares in another company

The startup needs to go through a minimum of 2 months of incubation at the nodal institute disbursing the grant. 
Startups applying under the said scheme are required to submit a monthly progress report on the basis of which they can claim the sustenance allowance mentioned heretofore. 
Technology Incubation & Development of Entrepreneurs (TIDE) 2.0 
Introduced by the Ministry of Electronics & Information Technology, Govt. of India, this scheme provides startups with the financial support of up to INR 40 lakhs. Startups can get funds under three categories: up to Rs 4 lakhs for ideation stage startups, Rs 7 lakhs for proof of concept stage startups, and Rs 40 lakhs for go-to-market stage startups. The eligibility criteria for startups applying under the TIDE scheme is as follows:
Startups under all three categories must be technology-based

All startups must have solutions with a societal impact

Only startups that have been previously funded under TIDE can apply for the 40 lakhs investment support category.
After the startup applies for the scheme, they are subject to two-level scrutiny of their idea, and the disbursement is made after they submit relevant documents. The disbursement of funds is subject to the progress report that the startups shall be required to submit. The scheme also offers 100% reimbursement for CA audited services as well as a disbursement for planned expenses.
Electronics & IT/ITeS Startup Policy
Brought in force by the Department of Science & Technology, Government of Gujarat, this scheme is available for startups established not more than 5 years ago, with a turnover not exceeding 25 crores. The startup is mandatorily required to be working on an innovative idea that can be a product, process, or service.
The scheme provides:
 100% reimbursement on stamp duty & registration fee

Lease Rental Subsidy for 50 sq. ft. per employee @ Rs. 15 per sq. ft. per month for two years

Interest Subsidy of 9% p.a. Upto INR 2 lakhs for two years

Patent Assistance of 75% of the total cost; 2 lakhs for domestic and 10 lakhs for international patents  

Bandwidth Subsidy up to 70% subject to a ceiling of INR 20,000 for 2 years

Skill Certification up to INR 5,000 per certification per person up to a ceiling of Rs 1 lakh p.a. for 2 years

One-time assistance of INR 1 lakh for marketing and product development

Biotechnology Ignition Grant (BIG)
This scheme was initiated by the Department of Biotechnology, Govt. of India, for ideation-stage startup innovations in the biotechnology sector. Only Indian citizens with startups incubated at an incubator are eligible for applying for funds under this scheme. In case the applicant is an employee, they should have a NOC from their employer. The BIG provides grant-in-aid of up to INR 50 lakhs to biotech startups for research & development, and a benefit of INR 10 lakhs for prototype development. Other eligibility criteria consist of the following:
Only startups at the proof of concept stage are eligible for applying

Individual applicants should be Indian citizen between the age of 18-35

Researchers/Academicians engaged in teaching cannot apply

Benefits under NIDHI Entrepreneur-In-Residence
Brought into force by the Department of Science and Technology, Government of India, this scheme provides funding assistance of up to INR 3.6 lakhs to individuals of Indian origin with no source of income. The eligibility criteria for availing this scheme are listed below:
The applicant should be an undergraduate/postgraduate/diploma holder in science or engineering.

The applicant should be pre-incubated at an incubation centre and should be working on their idea on a full-time basis.

The applicant should not hold more than 10% share in other companies
OTHER USEFUL ONLINE RESOURCES
Use

www.startupindia.gov.in

to register for a DPIIT certificate, which every startup is required to have. The website is also a good informational source for startups schemes in place across the country.

Startups with a DPIIT certificate can register their startup on the Government e-marketplace,

www.gem.gov.in

to sell their products and also arrange pilots with government departments.

Similarly, in Gujarat,

www.startupgujarat.in

is a valuable source of information to check guidelines and timelines of government schemes.
QUESTIONS
What is the detailed process of disbursement of SSIP Grant?

Can a startup be eligible for availing SAS grant after availing the SSIP Grant?

What extent of details should a startup fill in the incubation/grant support application form?

What is the highest level of funds available for various Government Grant schemes?

Are online service-based startups eligible for the same schemes as brick-and-mortar startups?

What are the Grant schemes that GUSEC is a nodal institute of?
For answers to the above questions and more queries, watch the entire session
here
.