Gujarat University wins Best University Award for Startups and Innovations for the Fourth Consecutive Time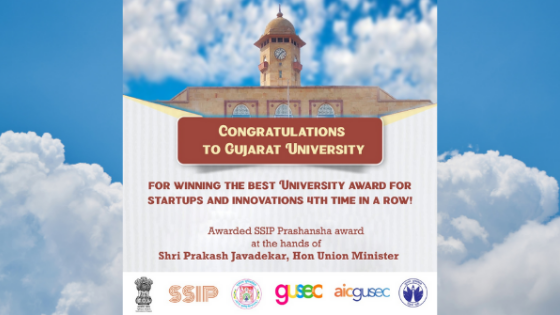 In a moment of immense pride for GUSEC, Gujarat University has been announced as the winner of the SSIP Prashansa Award for Universities for the fourth year in a row. The Award is bestowed upon student startups, student innovators, and academic institutions for exceptional efforts to encourage entrepreneurship and the pursuit of innovation.
In an online function held on December 17, 2020, Gujarat University was awarded the prestigious honour at the hands of Shri Prakash Javadekar, the Union Minister for Environment, Forest and Climate Change; Information and Broadcasting; and Heavy Industries and Public Enterprises. 
Owing to the indelible efforts of GUSEC towards encouraging the risk-taking mindset and pushing their vision for entrepreneurs through programs like STARTfest (aiding student entrepreneurs in college), accelerateBHARAT (accelerating tech startups building for Bharat) the Children Innovation Festival (supporting children-led innovations across the country), and herSTART (bolstering women entrepreneurs), GUSEC has emerged as a leading authority in helping the Gujarat startup ecosystem grow, and deliberately leading Gujarat to bagging the #1 Startup State plaque in the country for two consecutive years.
GUSEC has made tremendous progress under the Student Startup & Innovation Policy (SSIP) and made multifaceted advances in initiating more and more students to innovate. 
Listed below are some statistics about a few projects undertaken in the same direction in the fiscal year 2019-20:
About 74,124 students were sensitised to the concept of entrepreneurship  

A total of 287 innovative school projects by students were supported

About 160 ideas at the proof-of-concept stage were given the required startup support to help them progress to the next stage

About 27 patents were filed in the year

62 student startups were provided with the necessary aid (incubation space and facilities, mentorship, seed funding prototyping grant, etc)

65 projects by students were supported and recognised through awards and other means of recognition.
Envisioning the fact that 'anyone can innovate', GUSEC continues to make tremendous strides in the startup ecosystem of Gujarat, the ripples of which shall be felt throughout the country in the time to come.