Top 11 Tools for Startups, as Recommended by Startup Founders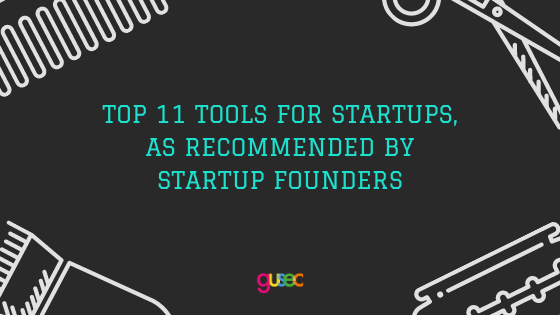 One of the most difficult and crucial decisions a person can make is deciding to venture into entrepreneurship. What comes next is even more difficult – managing costs to build your business while also maintaining overhead & add-on expenses that inadvertently lead to unexpected payments. 
Addressing that issue, GUSEC organised a session with Amish Thaker, Aagam Shah, and Vaibhav Jain, the founders of Visity, Plushvie, and Hubilo respectively, who interacted with the audience and introduced them to handy & effective tools that get the most done with little to no cost. Read on to find about 11 such easy-to-use and readily available tools.
GoDaddy

 
Amish Thaker, founder of Visity, says that the first thing that you will need when starting a business is building a website. Use GoDaddy to buy a domain. Go Daddy consists of reasonably-priced domains.
Wix.com

 
If you do not have the resources to code your website from scratch, Wix.com could be of tremendous help. Wix has a variety of templates, especially if you're a beginner looking to have a presence on the internet. You may have to pay an additional INR 500 if you decide to go live with your website.
Must-Have: SSL Certificate. This certificate enables security of data between servers and appears in the form of a lock beside your website URL. The lack of an SSL certificate may show a red cross or depict your website URL as 'unsecure', which can have affect client perception of your company.
If you have a basic understanding of HTML/Javascript and plan on creating a website on your own or have someone making the website for you, you can get an SSL certificate and host your website for free via Firebase and Github. 
For a step-by-step procedure on how to host a website using Firebase, you may watch the session here.
freeCodeCamp is a resourceful place to learn to code. If you're a startup founder, you may find basic HTML courses useful as they give you the autonomy to tweak or update your website as and when required, without having to depend on a website developer. 
Aagam Shah, founder of Plushvie says that as a startup, you will need presentations and pitch decks for countless purposes including pitching to investors, marketing purposes, making business plans, or fundraising. Canva's easy-to-use templates and animation help in making swift graphics, whatever the need be. 
For making impactful presentations, Keynote is a good iOS tool with one-of-a-kind animation styles and templates. Alternatively, Windows Movie Maker and Adobe XD can also be used for that purpose.
Vaibhav Jain, founder of Hubilo, says that before you decide to develop a website or a product, talk to customers and touch base with them about your product. These customers should not be your family and acquaintances, but people you don't know. Reach out to people through applications like Instagram for B2C products and through LinkedIn for B2B products. This procedure is termed as 'user interview'. This helps you shape your product, build a product development roadmap, your go-to-market strategy, and helps in validating your idea.
Snov helps you gather the emails of your prospect clients. It is a great tool for you to reach your target audience straight through their email inbox.
You may watch the session for a detailed demonstration.
eSignature is a HubSpot tool that provides templates for e-signatures for your email. You can also opt to put your picture in it. Vaibhav says that embedding an image in your e-sign can have a good impact on your mail recipients as it is always better to provide a face to whoever you're communicating with.
If you're working on an idea and need to find out the weight of the demand that it has amongst customers, Ubersuggest helps you gauge the same, and provide you an estimate of how in-demand your idea would be post-launch. This prevents you from deep-diving into developing your idea and help you save time if your idea doesn't gather enough utility for the customers.
PandaDoc has free, readily available templates for a variety of documents that may come in handy if you need to draft proposals, agreements, HR policies, appointment letters for employees, etc. 
Honourable Mentions
Besides these, you may use Zoho Mail to get free emails, Envato Elements & Theme Forest, which are one-stop solutions for website templates. Biteable & Lumen5 are helpful tools to make short videos. In case you need to gather feedback from users, clients, and suppliers, you may use Google Forms. Besides the tools, you may also want to check out podcasts like Masters of Scale and Insights Podcast Series, which cover stories of startup founders in and outside India.
More Queries
Why should one avoid WordPress for developing a website?

How can you develop an application? What app should developers/coders prefer while developing an app from scratch?

How can one make a proposal for an investor?

How can one use Gmail as a task management tool?
For answers to these questions and more, watch the entire session here.