Customer Relationship Management: Acquiring Customers & Keeping Them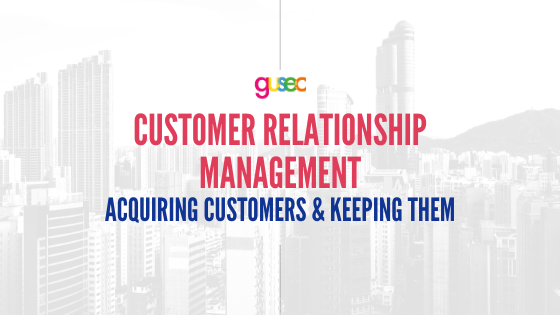 In a world that gets more digital every day, it gets important for businesses and startups to pivot to digital platforms to acquire customers. To talk about the same, GUSEC hosted Mr Vedanarayan Vedantham, Digital Strategist at Razorpay who, having worked for a handful of companies has a plethora of experience in the field of digital marketing and product management. 
'The Great Indian Digital Story'
Until 2019, the first platform that internet users in India initiated their internet usage was through Google search. However, this changed in 2019 when people prioritised downloading apps over Google search. All startups looking to scale their businesses should develop their app ecosystem as a priority. 

In 2020 India, YouTube and Instagram are the #1 platforms to build awareness about your brand.

The highest acquisition assets at the beginning of the year were e-commerce sites, which were then replaced by edtech and health tech platforms as the pandemic progressed. 
Prioritising Your Bandwidth
To begin with, ask yourself: is my product category mass/niche? If it is mass, use

Google keyword planner

/Google trends which are free tools provided by Google Adwords. Use them to search your product, and to get an idea of the exact demand for your product. Even though you can't create demand, piggyback on existing demand to grow your business. 

If your product is a niche and requires high engagement from users, employ a high visual element while communicating with your users, and prioritise

Facebook

. However, if you're a B2B enterprise, prioritise

LinkedIn

.

If it is a niche but requires low engagement, use Google. Prioritise SEO for neighbouring keywords surrounding your product and drive traffic organically.

Google offers a

Universal App Campaign

that helps you drive more downloads and installs. You can employ multiple targeting indices for the same:
Outside-in: define your target audience manually 

Inside-out: use your data to input the details of the kinds of customers you need. 

App Store Optimization

which is SEO's cousin that helps you market your app. 

In-app marketing: for specific cohorts of consumers spending time on your app, give incentives (for eg. a 7-day free trial)

Accelerated Mobile Pages

: this is infrastructural support provided by Google to startups for free which reduces latency by loading pages faster on mobile browsers. This helps you rank higher on mobile SEOs.
RELATIONSHIP MANAGEMENT
It is one thing to acquire customers and an entirely different thing to maintain, engage and nurture a long-lasting relationship with them. This is why customer relationship management becomes an important aspect of any business. How you build and retain a relationship with your customers depends on certain criterion:
Mature vs. Nascent Category: If your startup is from an already evolved (mature) sector, your customers ask fewer questions as compared to when it is a comparatively new market sector

Unknown vs. Omnipresent Brand: The newer your brand, the more questions your customers will direct at you. As your business evolves with time, it builds trust, leading to fewer doubts among your customers

High vs. Low Average Selling Price: higher the price, more questions from the consumers

Long vs Short Sales Conversion Cycles: The longer your sales cycle, the greater will be the need to engage customers in regular customised content & vice versa

Service vs Product:  Services require a greater need for management because of the human element involved in it; product-based businesses require a lesser need for relationship management
LEAD ENGAGEMENT & NURTURING
Engage and nurture the leads that you've already acquired. Use marketing automation platforms like Act-On and HubSpot. Here are a few ways how lead engagement helps your business grow:
They form a part of a transaction lifecycle that converts potential leads into actual customers

Engage in sending repeat SMS/ emails to leverage impulse buys

Refunneling users and improving marketing ROI: reactivate inactive/hibernating users to interact with the brand

Make sure to utilise lifecycle emailers for two strong reasons: 
It results in a happier, more productive sales team since they now spend time only with qualified prospects (those who respond to the emails/message and who can be converted to potential customers) 

This also prevents you from going after irrelevant and uninterested leads. 
HAVE QUESTIONS LIKE:
How to engage customers in repeat business to help your business thrive?

Are emailers still an effective way of marketing?

What are some other social media platforms to drive traffic to your website?

What are some tips to pursue your hobby on a commercial level?

What are some effective mobile SEO tools?
For answers to these questions, watch the session here. 
You can also find more informational videos in our Startup Resources playlist on YouTube.
Subscribe to the channel to get free access to dozens of resourceful videos on startups, patent-filing, IPR, innovation, and lots of other free content, exclusively curated by GUSEC.