SquadCam: India's own AI-powered Social Media App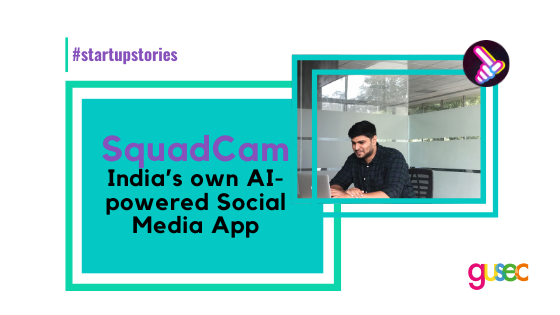 "Am I doing the right thing?"
As an entrepreneur, you may have asked yourself this question more times than you can count. You don't wake up one morning and decide to take the plunge and start your own startup. A good deal of planning, convincing, and risk-taking goes into it. 
Alen's first Scalable Idea
Alen Abraham, founder of SquadCam and CEO & Co-Founder of Plutomen Spaceforce found himself in a similar situation when he quit his job of five years at TCS. Originally from Kerala, he grew up in a middle-class household and an environment with no support for the entrepreneurship culture, but this never affected his innovative ideas, the earliest of which was selling Airtel SIM cards in 2004/5, while India was experiencing the whole cellphone boom. It also ensured that the buyers would approach Alen for talk time recharges and such; owing to which he started earning INR 500 every week; quite an earning for someone still pursuing his bachelors in engineering at the time. 
Making SquadCam
Alen says that he finds motivation in creating new things, the innovation for which came from his father, who was a teacher and used creative methods to help his students learn; and Steve Jobs. He tells me that he has always been fascinated with the concept of communication. "I remember watching a Steve Jobs biopic where he talked about how communication is the key to everything. I realized how far social media applications can go in helping users communicate with their audience, which can be modified to re-define communication as we know it" he says. For this very reason, he wanted to develop a B2C product and actually prefers B2C over B2B because he likes exploring people's, and not business needs.
Alen's true, solid intention for being an innovator was born during his MBA days at IMT Nagpur and stayed alive even after he started working at TCS. India wasn't big on startup activity at the time, save for Flipkart. Alen would discuss his ideas with his friends and colleagues who would often prod him to do something about them. He eventually participated in the NASSCOM 10,000 Startups Funding Programme, but couldn't solidify anything. This is when he decided to create a proof of concept for his next idea, and not just deliberate it in loose terms. Henceforth, when he came up with the idea for SquadCam, he approached app developers who then got things moving forward, quit his job at TCS, and established SquadCam.
About SquadCam
SquadCam is a social media application that sports a unique AI-supported feature, allowing a user to take a picture, recognize everyone in the picture, and automatically share it with everyone in the picture, without compressing the size of the original image. SquadCam is positioned between Instagram and WhatsApp, loaded with features that bridge the gap between the two applications.
Obstacles & Experience with the Startup Ecosystem
The struggles of a B2C business are manifold, and it was anything but easy to get SquadCam off the ground. In a B2C enterprise, it is difficult to gauge what the customer needs. "Customers will tell you they want something and will still not buy it. Our development team went to great lengths to find the hot topics of discussion and influence amongst users" Alen deliberates. Moreover, getting funds for the app was another issue because there are barely any Indian social media apps; something that is seeing quite a turnaround since India's ban on Chinese products and digital applications in late June this year. Alen also credits GUSEC & the entire startup ecosystem with the things it has taught him. "Having come from a non-entrepreneurial background with no experience in business, being among other startup founders taught me so much!" Besides peer learning and mentorship, the readily available infrastructure also aided them. "Finding good office space for your team, getting them the basic amenities and good WiFi is imperative, something that GUSEC helped us a lot with. Everyone here is very accessible, and our needs are always taken care of."
Future Endeavours
In his free time, Alen dreams of putting together a carpentry workshop someday. He also tells me that he watches one movie every day, and plans on producing a movie in the future. By force of habit, as a fellow movie buff, I ask him the best show/movie he saw in the past month, and he recommends me The Mandalorian. Having already watched the show (laced with Oscar-winning Goransson soundtrack and the adorable Baby Yoda), I approve of Mr. Abraham's artful taste.
Concludingly, Alen talks about how important it is, as an entrepreneur, to not get affected by success or failure, taken out of a Tagore poem that he read in school. For everyone starting out their entrepreneurship journey, Alen has one advice: "the first version of anything you create may be a success, but mostly, it will not. Make as many iterations as you need to, take consumer feedback, do whatever you have to, but do not give up easily."
Subscribe to the channel to get free access to dozens of resourceful videos on startups, patent-filing, IPR, innovation, and lots of other free content, exclusively curated by GUSEC.