Branding and Marketing: Need or Luxury for startups?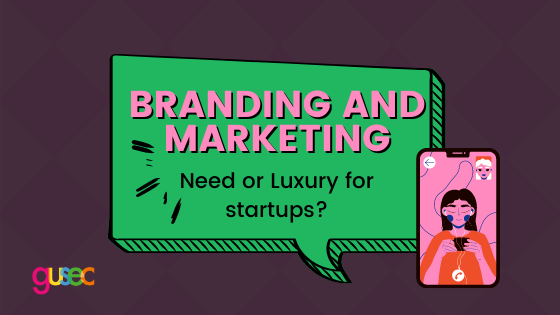 Startups always find branding and marketing as luxury processes. They seem unnecessary when one is working on the prototype, team building, cash-flow management, etc. And therefore, it becomes a genuine question: What is the right time to start working on my brand? 
Or, why do I need to create a brand? 
These questions were elaborately discussed by Mr. Rahul Bhutania, AVP Brand Capital, Times Group,  and Ms. Anvesha Poswalia, Digital Marketing Lead at L'oreal Professional at two separate sessions conducted by GUSEC.
Brand v/s Branding v/s Marketing
A brand is any term, symbol, feature, or collection of elements that distinguish one's product/service from others. A brand's true existence lies in the mind of the customer. 
And for that customer, the perception of the brand starts building with minute things like the colour palette and continues till pricing, packaging, delivery- all in all, the entire customer experience will formulate what a brand stands for.
When an entrepreneur works on building a brand, that process is called branding. 
A lot of people confuse branding with marketing. Marketing is that moment when a brand reaches out to the stakeholders.  
How does a Brand help a startup?
Aids a customer's ability to recognize a certain service/product

Establishes familiarity 

Builds a sense of trust which helps a brand in diversifying the products

Helps in attracting the right talent for the job roles

Provides assistance in approaching funding opportunities (proves to be a process for startups)
In addition to the above, an established brand helps charge a premium, and in due course of time branding and marketing costs decrease, leading to an increase in the profit margins. 
When is the right time to start the brand-building journey?
This is one of the most frequently asked questions. Mr. Bhutania had a very simple take on this subject. He says that not working on a brand won't be an issue but with each individual, you talk to about the business continuously creates a perception of the very same brand. Even this unconscious effort of yours is building a brand perception, anyhow.
That being said, the brand perception that takes form in the audience's mind may not be close to what you want to convey. 
Thus, a conscious effort towards building a brand becomes important, that way the entrepreneur's brand perception and the customer's perception fall close to each other. 
Mr. Bhutania also answered :
What are the low-cost ways to build a brand?
If the entrepreneur looks at the larger picture and reads about the basic processes, with a guided approach of the right mentors, it can prove very beneficial. 
Moreso, marketing is a trial and error process, there's not a scale that fits all. Thus, investing small amounts of money to understand the audience through ads, has also been a great learning experience. 
Ms. Anvesha Poswalia's session was exceptionally insightful when it comes to marketing.
What should a startup keep in mind before having its first online presence? 
She started her session with a checklist of crucial points one must look at while entering the market:
Acquire domains not only for your official website but also have an authority on the keywords associated with your business

Presence on social media profiles is a must. Each platform serves its own purpose and an entrepreneur must identify the ones which are important for the outreach. 

The LinkedIn page is crucial for B2B businesses

Twitter serves as a good platform for social listening

Any business which has a physical presence must have a full-fledged

Google My Business Account

In these times, one must keep in mind that the website should be mobile-friendly.
What are the steps to start with marketing the startup?
Marketing is no rocket science, it just calls for a better understanding of the customer and the product. The steps which a startup should take are as follows:
Know your audience

Build a buyer persona of your target customer focusing on the following information:

Age group

Job and income bracket

Location 

Solutions they need

Their favorite social media channels

When you put in these targeting options in Google Ads or Facebook Ads Manager, you'll see the addressable size of the market 

Social listening is when a startup listens to the problems that the customers are facing with the product. Social listening helps the entrepreneur build a more customer-centric product. 

Market analysis




A startup must run a market analysis on all fronts of the business. From talking to the potential audience to understanding the website visits, conversions from social media to the response of email marketing, not only is this step very crucial but must always be looked at as a continuous process. 

Keyword Research/ Theme research




What is it that the people are searching for, for which your startup has the answers to? This research not only helps in improving the page rankings but also helps in building the content. Anvesha describes in detail as to how one can search, choose, and build a theme around the keywords and relevant hashtags. 

Define Success Model by Avinash Kaushik




The model of See-Think-Do-Care helps look at the audience in a funneled structure of awareness, consideration, decision, and conversion. 

Measurement metrics need to be defined at each level of the funnel. Make sure to avoid vanity metrics as they are a measure of the media efficiency whereas metrics as CTR, Average time spent, CLV, etc are metrics for business efficiency. 
Are there any useful tools that can be leveraged?
There are various tools with free-to-use versions too that can help startups in building an improved digital marketing strategy. Some are mentioned below:
Tools like Ubersuggest, Google Trends, Google Ads Keyword tool, etc help in building the theme for the website content. 

SEO Ranking- Similarweb.com, ahrefs

Social media analysis(sprout social, phlanx, likelyzer)

PPC analysis(SEMRush)

Content analysis(Buzzsumo, Feedly)

Email marketing analysis(owletter, mailcharts)
What should be my marketing budget?
This is an important question that startups struggle to answer. Anvesha describes 3 approaches to setting a marketing budget:
Budget as a percentage of revenue:




Good for businesses that are established enough to know their revenue. 

Tactic based approach:




Businesses that work with agencies and freelancers per project

ROI based approach:




Helps set a budget based ROI prediction and goals. Works best when long term strategies are in place
Anvesha walks through the plan for direct response(under ROI based model), and explains it with examples, making it easy to retain. 
In the time Mr. Bhutania has been associated with Brand capital, what are the mistakes which he witnessed startups end up making? 
To know these answers and more, watch the entire session on Branding strategies for startups by Mr. Rahul Bhutania. 
To know about budget calculation, the 70-20-10 rule that Ms. Anvesha always follows marketing campaigns, and more, watch the entire session on Digital Marketing Strategies for startups. 
People say it's never too late to begin. But, it's late if you haven't started thinking about your brand and marketing. Start today.  
GUSEC conducts many such webinars that help you build your business. We have expert sessions that talk about everything, ranging from sales, marketing, team building, crowdfunding and IPR, and you can watch them all here @startup resources.