STARTFest: Bringing Innovation closer to Classrooms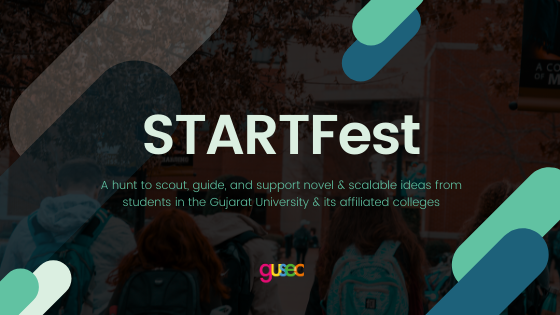 If you haven't been living under a rock, you've either used Google and Dropbox, or owned a Dell product, or might be an addicted user of forum discussions on Reddit or maintaining streaks on Snapchat. Why are we naming random applications/products? One thing that they all have in common besides their immense popularity, is the fact that they were conceived as tiny ideas, all in the corridors and campuses of colleges and universities around the world. 
Based on the premise that colleges are the birthplaces of many ingenious ideas, GUSEC came up with STARTFest, a hunt to scout, guide, and support novel & scalable ideas from students in the Gujarat University & its affiliated colleges, and helping them warm up to the startup culture. 
The applications for the same opened as early as January 16, 2020, and closed on February 10, 2020. A bootcamp commenced on May 04, 2020 and came to an end on May 07, 2020. STARTFest is supported by GU, Dept. of Science & Technology, Govt of India; SSIP, Govt. of Gujarat, and the Startup India Initiative of Govt of India; and offers benefits like:
pre-incubation support, 

free coworking space & mentorship support

access to GU infrastructure including laboratories

government grants, and cloud credits worth $20000.
IMPACT CREATED & OUTREACH ESTABLISHED
In order to reach the maximum number of young, innovative minds, GUSEC organized roadshows across 21 colleges from the GU ecosystem, also roping in their Principals and Faculty Coordinators via consistent email follow-ups and students with 75000+ SMS notifications. Not just that, a university-wide circular along with the event posters were circulated across 400 colleges and departments. The updates regarding the event were also regularly posted on the GUSEC website. Some of these colleges include MG Science College, Gujarat Arts & Commerce College, and BK College.
An outreach of 63363 was established through various social media platforms, and GUSEC was able to engage about 2156+ people in the event.
A total of 293 applications were received from about 440 students from 104 colleges, comprising 377 male and 63 female students. Out of the total, 48 applications and 95 students were shortlisted for the Boot camp. 21 of these made it to the final round.
 THE BOOT CAMP
The Boot camp was essentially organized to warm up student participants to the know-how and what's what of the startup ecosystem, while also providing them with a platform to showcase their innovations. The mentor sessions were specially designed to groom young innovators and facilitate them with the necessary guidance on startups and entrepreneurship, and to acclimatize them with various aspects of the startup community.
 THE MAIN EVENTS
The first day saw the GUSEC Group CEO Rahul Bhagchandani briefing the startups on the importance of innovation and the basics of a startup and general life cycle, followed by a session on 'Why should you innovate' by  Priyanshi Patel, Area Director, Entrepreneur's Organisation South Asia; and a session on the Basics and the lifecycle of a Startup by Frendy's Chief Marketing Officer Mr. Mitesh Shethwala.

The second event addressed startups on Design Thinking, presided by Mr. Rohit Swarup, Founder of Xplora Design School,

basically highlighting creative approaches to explore the need to establish a startup.

The next event had Mr. Tapish Bhatt, VP of CIIE enlighten the participants about the 'Business Model Canvas'.

The fourth event in the STARTFest saw Mr. Swarup Pandya, Senior Associate at CIIE talk to startups about the significance of Product Market Fit, who introduced the students with the

essential elements to keep in mind while preparing a pitch, and the clarity of perspective in the idea-pitching. 

The next event focussed on team building, tools and processes for startups and was presided by Mr. Vaibhav Jain, Founder of Hubilo.

The next event in the series addressed the startups on their sales and marketing strategies by Sanjay Chakraborty, Founder of Essksee Consultancy, and the

session focused on how to brand the product/services, acquire customers, and strategies to be made for sales and marketing in a lean and cost-effective way for the startups. 

In yet another event, startups gained insights on how to pitch your product and were guided by Mr. Bhavin Bhagat, Co-Founder of Indiabizforsale.

The last event in the series had GUSEC AVP Malay Shukla talk about

the types of government grant opportunities from the state and central government schemes,

along with Mr. Pulkit Bacchavat, Founder of Right Pillar Advisors, who

shared how the Angel and VC investors operate and the kind of money and equity involved with it.
The Boot camp was concluded by the remarks by Dheeraj Bhojwani, CEO of AIC-GUSEC, and was followed by teams submitting their Pitch Deck and a video about their startup idea.
FINAL RESULTS & WINNERS
After very careful deliberation and critical evaluation, three ideas of the final 21 were shortlisted for pre-incubation. 
Jay Pandya's 'Cheyser', a geyser that not only warms water in winters but also provides cool water during the summers; Lipi Poojara's Novel Antimicrobial Disinfectant that doesn't just filter waterborne disease-causing microbes, but kills them; and Nidhi Patel's Digitalization of Patients' Information, which helps build a digital database of a patient's medical history for ease of reference.