Gujarat University Aims To Nurture 3000 Entrepreneurs In The Next 5 Years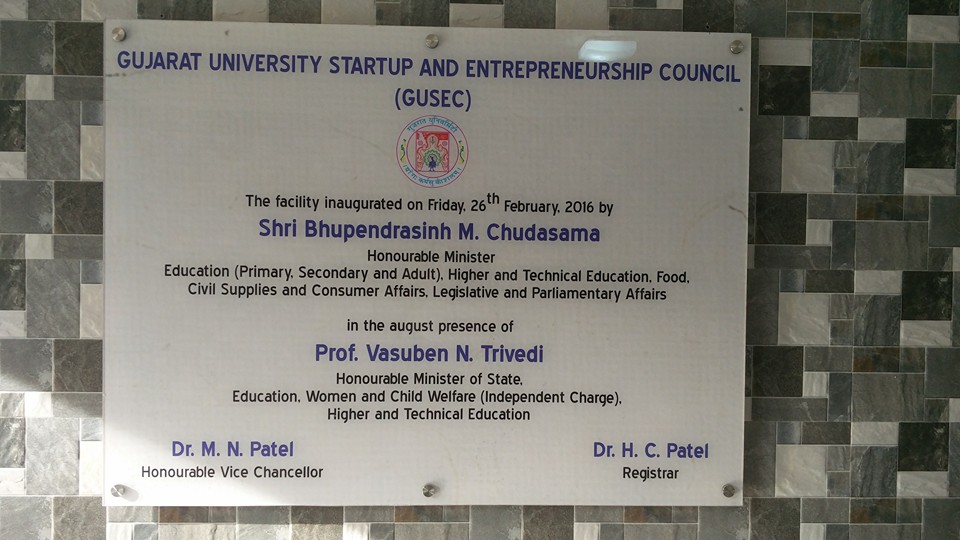 1% of university students will be encouraged, nurtured and supported to become entrepreneurs and innovators through university's Startup and Innovation Policy
May 5, 2016, AHMEDABAD – Today, Gujarat University Vice-Chancellor, Dr. MN Patel, announced the roadmap for the recently initiated Gujarat University Startup And Entrepreneurship Council (GUSEC).
GUSEC was constituted by the university late in 2015, and the co-working space situated within a dedicated building for GUSEC at the University School of Sciences, was inaugurated on February 26, 2016. Since then, 15 startups have already been operating from the co-working space, where as over 30 have applied to join the startup council.
"GUSEC is the first incubator and co-working space in India that's taking efforts for supporting non-tech startups and innovations, and it has been instituted to play the role of a top-notch facilitator in the startup world; we are accepting applications from not only GU students, but also from entrepreneurs of all backgrounds and industry verticals, thus helping the Gujarat startup ecosystem," said Dr. MN Patel, Vice-Chancellor, Gujarat University.
A mentor board, comprising industry leaders and domain experts, is also being formed under GUSEC to help startups get mentorship from the best in the business.
The Vice-Chancellor also announced that the university will recommend and help all its 300+ affiliated institutes to create startup centres along with bringing in necessary academic, co-curricular and extra-curricular interventions. This will directly impact over 3 lakh students enrolled with the university.
"We will implement several interventions across our academic, co-curricular and extracurricular platforms, some of these will include providing grace marks and attendance for well-performing student entrepreneurs and innovators, option for deferred placements, option for students to take 'gap years' for pursuing entrepreneurship, introduction of practical modules of entrepreneurship learning in syllabi, etc."
The university also plans to devise a ranking methodology to rank its affiliated institutes on the basis of how the institutes support entrepreneurship and innovation activities. "Based on the ranking, we will providing extended hand-holding support to the 50 best campuses for building their startup centres and entrepreneurship cells," he added.
To support innovators and researchers, the university has recently introduced the concept of "Research to Revenue", where the university aims to convert 5% of research done by its students into startups with hand-holding support and facilitation via GUSEC.
"Research to Revenue is a concept that Gujarat University is pioneering. We will also create a patent and IPR support group under GUSEC and we expect to file at least 50 patents in the first year through GUSEC," the Vice-Chancellor announced. Support from external agencies such as National Innovation Foundation and Gujarat CSR Authority will be provided to entrepreneurs needing patent support, until the patent support group is formed under GUSEC.
The Vice-Chancellor also stressed on the needs of funds for startups at every stage and announced that the university will participate as a "Nodal Institution" to facilitate Gujarat government's startup assistance scheme.
"Recently, 12 startups received Rs. 40,000 each as pre-seed grants from Gujarat State Seed Corporation via Gujarat CSR Authority at GUSEC, and we will continue organising such funding events with external agencies," the Vice-Chancellor said. "But we also plan to set aside an internal budget of up to Rs. 1 crore for startup seed funds for promising startups at GUSEC. This will be a first-of-its-kind initiative by any university."
A Startup & Innovation Policy will be introduced soon to implement and execute the roadmap across the universities and its affiliated institutes. The policy's aim will be to support and nurture at least 1% of university students as entrepreneurs and innovators.
"Through GUSEC, Gujarat University wishes to play a crucial role in building the startup ecosystem of Gujarat and the country. We hope to engage as many external stakeholders as possible and not only support startups, innovators, and entrepreneurs at the ground, but also hope to build processes, systems and policies at the broad level that are scalable and replicable. Youth of the country today requires to be independent and self-sufficient. It is very crucial that universities play their part in helping students become "job creators" instead of "job seekers"," the Vice-Chancellor said and concluded his address.