Rethink Outdoor Advertisement with WooHoo Screens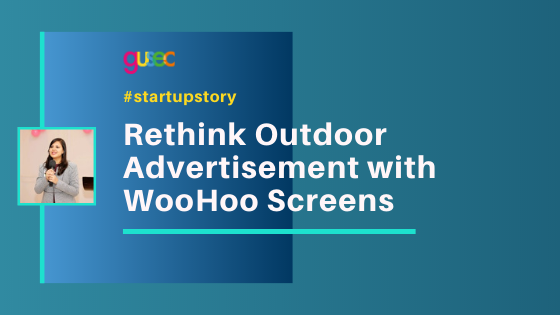 A quest for Balance
"When you look back at your startup journey, what is it that you find most satisfying?"
"Sometimes we go into one of the places where our screens are at display and randomly ask people why there are 'so many TVs in the place'. When they respond with, 'it's not a TV, it's a WooHoo Screen', I find it fulfilling to know that we created something that people recognise and love."
While in school, Surbhi was not only a straight-A student but also an active participant of the extra-curricular activities. "I was good at balancing the multifaceted aspects of life, and I wanted a career that had the same dynamism". This is what led Surbhi to quit her two-year-long job at Larsen & Toubro. 
Having left L&T, Surbhi, along with her best-friend-turned-husband Palak, and two other business partners started MuftXerox, an enterprise set up at photocopy centres that had pre-printed advertisements on one side of the paper and allowed customers to get photocopies on the other side for free. MuftXerox grew to establish 22 centres in Surat and 14 in Vadodara. However, while running the operations for MuftXerox the duo realised that the xerox business alone wasn't scalable, and started to expand their operations to other domains of media aggregation, realising the importance of video screen advertising and of the countless avenues of innovation that it opened. "About 50% of advertising in the world is done on digital screens but in India, they only account for 3-4% of the total advertising, so Palak & I decided to address that need with WooHoo Screens."
Setting WooHoo Apart
So, how is WooHoo different from the plethora of other options out there? 
To this, Surbhi says, "We didn't just want people to see the commercials, but also the screen playing them." Designing creative campaigns that ensured the involvement of people, WooHoo has become a well-established brand in Surat. "We wanted to engage our audience as radio stations do. For that purpose, we designated WooHoo Jockeys to carry out programs that ranged from Navratri parties to McDonald's burger-eating competitions. The audience loved it." WooHoo didn't see their audience as potential customers, but as who they were – people. Owing to this strategy, WooHoo has acquired more than 1000 customers and covers 100 locations with more than 300 screens.
Surbhi's transition into entrepreneurship wasn't an easy one. Sharing some of her earliest experiences, she says, "male business owners wouldn't feel comfortable negotiating the terms of business with me because they were not used to doing business with females. We wouldn't be able to close deals even in a win-win situation, and it was frustrating." In those circumstances, Surbhi made it her responsibility to make them comfortable. Addressing the gender bias, she says that it's not just men who're uncomfortable dealing with women; both men and women face the same problem with the opposite sex. "This problem puts us a decade behind. I believe this is also why women don't get a lot of opportunities for growth" Surbhi continues. 
Speaking about a possible solution to the problem, she says that trust is the key. "Even if you feel that the other person in the room is being too egotistical, trust him to know better. If you see signs of things not working out, take action against it. Until then, try not to foresee things."
Initially in Surat and Vadodara, WooHoo has now reached Ahmedabad. Surbhi credits the network of GUSEC in Ahmedabad for helping her expand operations in the city. "Getting incubated at GUSEC not only helped me gain access to investors and scalable opportunities, but I was also able to introduce WooHoo at the Vibrant Startup Summit, 2019 that helped us build a presence in Ahmedabad."
Surbhi is an active participant of the startup ecosystem and says that she aims to put efforts to "convert women owners into women entrepreneurs." She believes that women belong in all the places where decisions are made, and going ahead with that agenda, wants to work towards providing women with a platform where they're not just included, but heard.