Gujarat University and Claris Capital sign an MoU to support Gujarat startups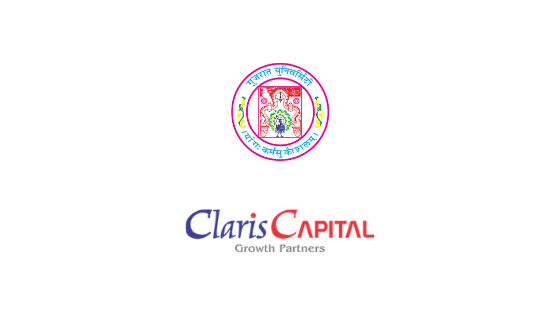 The MoU will allow the two organisations to collaborate on industry-academic collaborations and research partnerships.
A large-scale, national-level youth startup conference will be jointly organised by GU and Claris as agreed under this MoU.
AHMEDABAD, September 1, 2017: Gujarat University and Claris Capital today inked a memorandum of understanding to work towards strengthening the startup, research and innovation ecosystem of Gujarat, and to collaborate together in the areas of startups, entrepreneurship, innovation, and academic research.
Through this association, GU and Claris will work together and share technical know-how, expertise, knowledge, resources and infrastructure for entrepreneurship development, startup support, innovation management, and academic-industry-research inter linkages. The MoU will also allow startups directly supported by Gujarat University to have a direct access to relevant funding opportunities from Claris Capital.
Per the MoU, the University and Claris Capital have also agreed to work towards organising '.INC Idea to Incorporation' – a youth entrepreneurship development conference, along with a large-scale business idea competition.
"Gujarat University's GUSEC is currently the best startup support system in Gujarat, which supports over 45 startups currently. Having being the pioneers of leveraging CSR-funding through Gujarat CSR Authority for startup funding, associating with industry giants such as Claris is only a natural next step for Gujarat University's efforts towards supporting young startups, entrepreneurs and innovators. Going forward we look forward towards supporting at least 100 quality youth-run startups at GU and we are executing the necessary strategy to reach to that goal," said Dr Himanshu Pandya, the Vice-Chancellor of Gujarat University on the occasion.
Through Gujarat University Startup and Entrepreneurship Council (GUSEC), Gujarat University has been undertaking efforts for supporting startups, entrepreneurs and innovators since 2015. As a part of GUSEC, GU has provisioned a 100-seater co-working space for startups in the University campus. Currently supporting over 45 startups, GUSEC has funded 37 startups with pre-seed funds sourced through Gujarat CSR Authority. Over 20 ideas have been commercialised at GUSEC, and currently 18 product-based startups are incubated with the startup support system.
The venture capital arm of Claris Capital is led by Krishna Handa. Claris Capital focuses on angel and seed investments in startups
Media Contacts:
Gujarat University – Mr Malay Shukla, Specialist, GUSEC, +91-79-2630-8576,

[email protected]

Claris Capital –

[email protected]

, +91-79- 26563331