Union Minister Suresh Prabhu Interacts with Startups of Gujarat University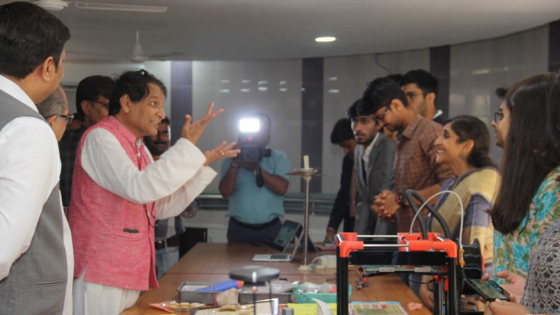 Union Commerce & Industry Minister Shri Suresh Prabhu today visited Gujarat University Startup and Entrepreneurship Council (GUSEC) to explore efforts undertaken by GUSEC to support student entrepreneurs, innovators, and startups. The Minister interacted with select startups supported by GUSEC.

Later, the Minister addressed a gathering of research scholars, students, faculty, startups and startup ecosystem stakeholders of Gujarat University.
At the gathering at the Senate Hall of the University, the Hon'ble Minister launched the Gujarat University Startup and Innovation Policy and conferred upon the annual GUSEC Annual Awards 2018 including the Gujarat University Startup Ratna 2018, which was conferred upon Gujarat startup ecosystem's Hiranmay Mahanta.
The Gujarat University Startup and Innovation Policy is a first-of-its-kind policy by any University in the country.
Gujarat's Minister of Education, Shri Bhupendrasinh Chudasama, was also present during the event. "Startup can be simply defined as solutions to problems with convenience," said the Education Minister. The Minister went on to applaud the efforts of Gujarat University in the past few years towards supporting startups & innovations.
During his keynote, the Commerce & Industry Minister said the following key points:
● Today, visiting GUSEC and exploring innovations with Education Minister, it felt like we were in a science-fiction movie. They were mind boggling and peeping into the future, and at the same time I am not surprised because where can you witness such things if not in Gujarat!
● There is always an inevitable need for University and Industry to work together, but what Gujarat University is doing is far, far more important. The University is not just creating linkages and collaborating with businesses of today, but creating tomorrow's businesses at the University itself!
● Today I saw young persons who are not old enough to have a mustache working on great new visionary startup ideas. That is a brilliant thing. This is new thinking and I am glad Gujarat University is pioneering this.
● Gujarat University Startup and Innovation Policy is a landmark development and will go a long way to build an institutional framework that is necessary for the growth of the entire economy and society.
● I really look forward to having Gujarat University's guidance on what and how we should take this idea forward nationally.