Gujarat's Hon'ble Education Minister Appreciates Efforts of GUSEC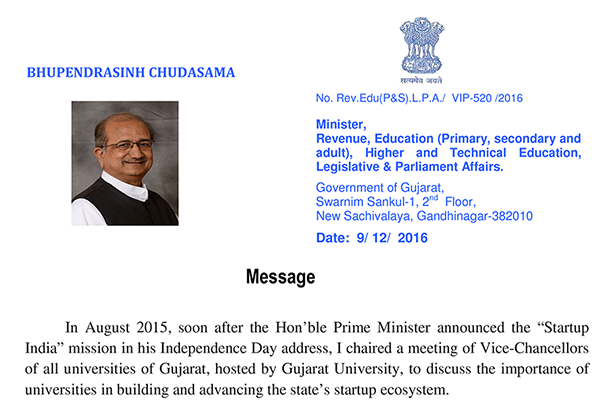 In a letter on December 9, 2016, Gujarat's Hon'ble Minister of Education and Revenue, Shri Bhupendrasinh Chudasamaji, appreciated the efforts of GUSEC under the aegis of Gujarat University.
The letter reads:
In August 2015, soon after the Hon'ble Prime Minister announced the "Startup India" mission in his Independence Day address, I chaired a meeting of Vice-Chancellors of all universities of Gujarat, hosted by Gujarat University, to discuss the importance of universities in building and advancing the state's startup ecosystem.
Later in February 2016, I inaugurated the co-working space of Gujarat University Startup Entrepreneurship Council (GUSEC), and it is noteworthy that GUSEC – in just 10 months – today supports over 25 startups and innovations, and is developing the country's first institutional mechanisms and policies for supporting student startups and innovations in the research sectors.
The role of universities in supporting startups, entrepreneurs and innovators is of utmost importance and the efforts of Gujarat University in this regard have been key in our state of Gujarat.
I congratulate the university for their efforts and wish them continued success.
We thank the Hon'ble Minister for his kind remarks. The copy of the letter can be viewed below: