Creating an Educated Tomorrow, Together: SciKnowTech & BrainItOn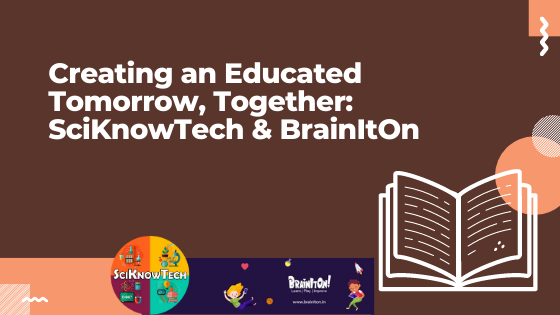 The Age of Google
I sometimes think about the way we lived before the internet became an indispensable part of our lives. Ah, to be able to exist, wondering why certain things happen. Today, we have no place for wonder. 
What time does my bus arrive? Google it.
Is it supposed to be this hot in October? Google it.
Is God dead? Google it.
Kids, teenagers and youngsters have way more access to information than any generation before them, and in a time when data has become so accessible, how do you ensure that in an era of Google, children don't lose their spirit of curiosity? In a time where online learning has become the new normal, how do we ensure that kids do not lose their excitement for learning?
SciKnowTech & BrainItOn
While taking tuitions of senior secondary school students during his college days, Shubham realized the lack of motivation among students to learn along with increasing distraction when taught conventionally. He knew that a new approach using technology along with game-design and game-elements in education can do wonders. With the goal to maximize engagement and interaction, enhancing motivation to learn, Shubham founded BrainItOn. 
Dr Megha Bhatt founded SciKnowTech with the motto 'exposure leads to exploration; and exploration, to innovation'. Inspired by the Montessori class system in the US, she along with her husband Saleel developed a pedagogy that introduced students to 'different languages of learning'. They believe that good learning should not just be experimental, but experiential. "In 2015, as a lecturer in the Botany Department of Gujarat University, I first came to know about startups through Dr Himanshu Pandya, my colleague at the time and presently the Vice-Chancellor of the university", Dr Bhatt recalls laying the foundation of SciKnowTech. 
She first reached out to Shubham back in March 2020. Saleel says, "SciKnowTech & BrainItOn have been interacting with each other's offerings ever since we got incubated at GUSEC. Usually, when you're in the same domain, trust is sometimes an issue in collaboration. Having known Shubham through GUSEC not only helped us develop a productive relationship, but also leverage each other's resources to bring more students into the fold of learning during COVID." 
Same Same, But Different
SciKnowTech & BrainItOn are ushering in a new era of education. Shubham says that today, the dynamics of learning are changing. "Students and parents are looking beyond rote learning and good scores. India either has coaching centres or experimental science centres. There is no dearth of learning centres across Ahmedabad, but none of those are like SciKnowTech that not only combines the two concepts together but also offers them grade-wise."
While both the startups are in the education domain, their approaches vary vastly. Their collaboration makes SciKnowTech's valuable experiential learning available to a wider audience through BrainItOn's technological outreach, that also gave SciKnowTech another benefit they previously didn't have – the ease of evaluation of learning that BrainItOn provided. 
Pre-COVID, SciKnowTech was purely an offline academy while BrainItOn was already virtual. "We realised very early that the pandemic wasn't ending anytime soon and wanted to figure out an alternative to ensure students' continued learning", Saleel says. They redesigned and tweaked the delivery of the content to ensure that the medium of learning didn't affect its intensity, and engaged the youngest students. BrainItOn's response system that gamifies quizzes and tests further enhanced their pedagogy and helped students submit their evaluations stress-free.
When I ask about the response of their students, Shubham says that owing to their exciting offering, parents who weren't into online learning before are now exploring it as a viable option for education. Saleel tells me that going online made them limitless. Before the lockdown, SciKnowTech had students only from Ahmedabad, but it has now expanded into a global classroom. 
Talking about their inspirations, Megha & Saleel say that getting in touch with young blood encourages them to try their ideas, and Shubham says that having Megha & Saleel's guidance and GUSEC's support motivates him to do better every day. "Especially, being EdTech startups, GUSEC's place in the education field helped us leverage a lot of support," Shubham says.
In many ways, SciKnowTech & BrainItOn will help enhance what the new National Education Policy envisions – learning beyond the classroom. Shubham believes that with the right platform, students conventionally deemed average can outperform toppers. Speaking from his experience as a corporate professional, Saleel remarks, "Today, Google & Apple don't care about mark sheets, but how a candidate contributes to an organisation by applying concepts she learned in classrooms to solve problems." The startups believe that their collaboration shall go a long way in developing aptitudes that help students adapt better to the work cultures of tomorrow.