GUSEC Innovators Head to Silicon Valley for the Rajeev Circle Fellowship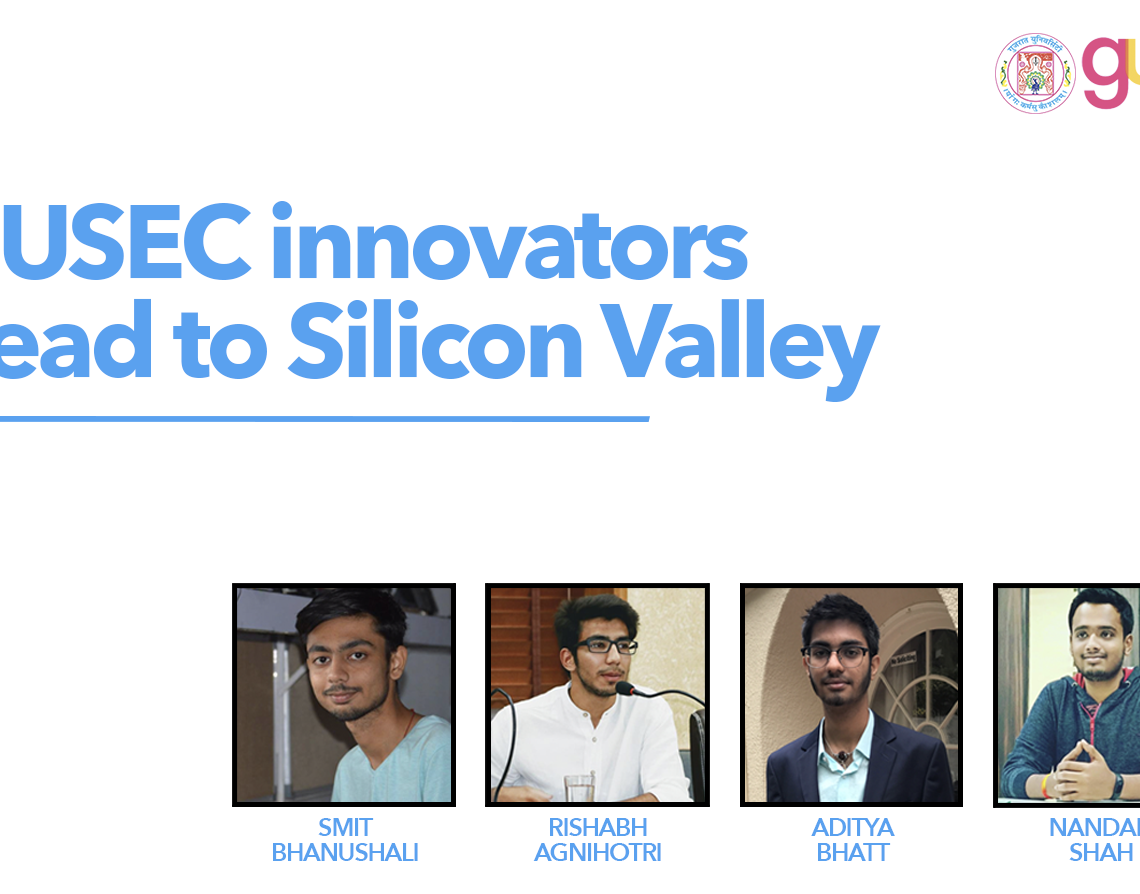 The fellowship named after Google's early investor and mentor Rajeev Motwani is a prestigious experience for young innovators and is run by Asha Jadeja Motwani, who is herself a reputed philanthropist and VC based in Silicon Valley. 
Press release, for immediate release, as of 1700 hrs IST on April 28, 2018
AHMEDABAD, APRIL 28, 2018: Rajeev Motwani was the professor and guide of Larry Page and Sergey Brin, co-author of Google's PageRank algorithm when the duo founded Google as a college project. Motwani became one of the first advisors and investors in Google. Motwani was also an early investor in PayPal as well as a special advisor to Sequoia Capital. Now, four innovators supported by Gujarat University Startup and Entrepreneurship Council (GUSEC) have been selected for a prestigious fellowship instituted as a tribute to Motwani who passed away in 2009.
Managed by the Motwani Jadeja Family Foundation, led by Motwani's wife, Asha Jadeja Motwani, the fellows will embark on a three-week all-expense paid journey to Silicon Valley to explore the startup ecosystem, pitch to investors, hone their ideas, establish connections and network with like-minded people in the United States. Asha Jadeja Motwani has been a key ecosystem contributor to the Indian and the Pakistani Startup Ecosystem.
Upon completion of the fellowship, the fellows will return to India and continue working on their innovations, while becoming a part of a closed network of successful Rajeev Circle fellows.
The fellows include Rishabh Agnihotri, founder of Blecan Innovations, an indigenous automated payment solution based on beacons; Smit Bhanushali, an electronics enthusiast, founder of CircuitGyan and curator of YuvalayELab in Vadodara; and Nandan Shah, founder of Alteration Innotech, which is into the development of unique, patent-pending smart access systems.
Aditya Bhatt, founder of AMB Industries, who has developed the technology that creates electricity of radiant energy in the ionosphere (i.e. out of thin air!) is a former Rajeev Circle fellow who is also the Curator for this year's cohort of the fellows and will travel with the rest of the innovators.
A total of 17 innovators will partake in this fellowship this year, all belonging to the Indian subcontinent.
—
GUSEC Innovator Invited for Facebook's F8 Annual Developer Conference
Rishabh Agnihotri, founder of Blecan Innovations, who is also selected as an Entrepreneur-in-Residence at GUSEC, has been selected for Facebook's "F8" Annual Developers Conference to be held in San Jose, California, between May 1 and May 2, 2018. Rishabh will be attending the conference on Facebook's invitation and also visit the Headquarters of Facebook during the trip. Rishabh is the lead of Facebook's Ahmedabad Developers Community, and less than 100 such Community Members from across the world have been invited by Facebook to the conference.