Team Building & Management Essentials for Startups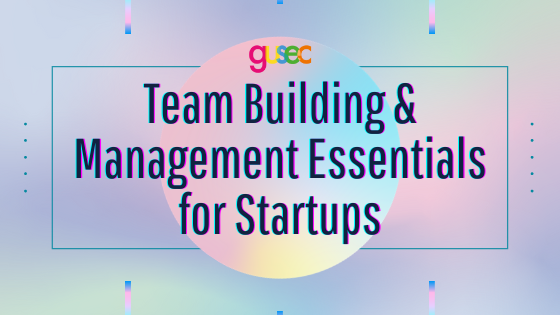 The groundwork of every startup consists of a vision that is central to its founder; a vision that they aspire to share and achieve with their teams. Therefore, it becomes important that their teams not only understand but also work towards achieving it.
To speak to the audience about the same, GUSEC invited Harsiddhi Shah, an image consultant in a session about effective team management & communication, who talked to the viewers and the discussion panel consisting of the founders of Growing People (Minakshi Kotwani), Chal Kabira (Rahul Panch), & Agrimony Spiritual (Aishwarya Jain) about the importance of a team in startups and says that "there are no solo entrepreneurs". In yet another session with Mitesh Shethwala of Frendy and Parin Sanghvi of Reelo, we learned how important a team is to implement a founder's vision. In this blog, we take a look at things to keep in mind while hiring, how to improve the quality of your team's work and the importance of good communication flow.
HIRING INITIAL EMPLOYEES & A CO-FOUNDER
Hiring the first few employees can make all the difference for your startup. "It's like setting up the DNA of your company," Mitesh says, "as they play an important role in putting the rules and the culture of the company in place." Parin says that one cannot scale a company on their own. "A startup doesn't become scalable with a product or with marketing. You need a great team to make it happen." Parin also advises to look for both hard and soft skills in employees; those who can not just bring ideas but also help make them a reality. He says, "Think of how your employees can help you scale your startup to a bigger business." All the key people in your company must be sold the right vision and mission, especially your co-founder.
BUILDING A GREAT TEAM
Hire action-takers, and people who seem willing to take risks. But if your team consists of either all risk-takers or all cautionary members, it will

lead to a lot of conflicts and
discourage critical thinking. Hiring a mix of both risk-takers and followers enable critical thinking and bring creativity in the team.

While hiring, make sure that the people involved in the day-to-day executive functions of your startup are aligned with its goals. You may want to compromise on people's skills because they can still be learned over time, but their alignment with your company's vision shouldn't be overlooked.
Don't overlook people's soft skills, but when hiring, consider them for their hard skills. Especially in the startup ecosystem, you never know when you're going to start a new project or take a new step in an existing project. You need efficient, agile, and resourceful employees.
Don't build a team for running a startup. Keep in mind that you're not going to stay a startup forever, and your team needs to evolve with your business. Hire a team that can run a business.
While going for hiring, invest in a recruitment agency. Make sure to employ as many social media platforms during the recruitment process as possible (LinkedIn, Facebook, Twitter).
Hire Slow, Fire Fast: If a newly-hired employee doesn't fit in the company culture, is unable to work according to your standards, or lacks other necessary skills, do not take too much time to fire them. The longer you wait, the more it will cost you.
While hiring your first employee/intern: ask yourself what you want this person to do. What do you think they will bring to the table? Can that person help you create a good company culture that helps you hire more talent? Is the person excited to be on board?
BRINGING YOUR TEAM TOGETHER
Discuss your vision with the team. It helps them chart a course to where you want to go and figure what needs to be done to get there.
Not every employee works for salaries. There will always be people who look forward to making a legacy; leave an impact on society. Let your vision be theirs as well.
Be a ringmaster: Build a rapport with every member of your team to ensure they all work together to chart a seamless path towards achieving your vision, thus making you an effective leader.
ENABLING BETTER COMMUNICATION FLOW
'Change and implement': Don't hesitate from making changes to your organisational structure. Experiment and see what works instead of sticking to an old hierarchical structure that doesn't work. Startups especially, cannot possibly run on pre-established corporate structures because their needs and demands are completely different from those of body corporates.
Even before you hire people, have an organisational structure in place because it also helps to put the value, culture, and success of the organisation in perspective.
A startup organisation structure shouldn't comprise of an employee sitting in his cubicle, finishing his to-do list and leaving when the time finishes; but of people collaborating and brainstorming and networking to encourage people to think out of the box.
The four key steps to take while altering your organisation structure are:

dynamic roles instead of static job descriptions
Distributed authority, not delegated.
Rapid iterations, constantly changing the organisation structures whenever and wherever the need be.
Transparent roles instead of politics in employment. This motivates everyone to put in their best effort because it makes them realise that they can be promoted, and not just the senior employees.
Open channels of communication across company hierarchy
Harsiddhi talks about the organisational overhaul that led McDonald's from being thought of just for fries and burgers to changing the global perception of their brand; and Samsung's 'creative shock therapy'. Many others like Zappos, Zapier, Buffer, & Basecamp have achieved great heights owing to their dynamic organisational structure. She also covers a lot of other aspects in the session, ranging from questions like how does one bridge the gap between an employee's goal and an organization's goal; and also talks the audience through tips about mastering the art of delegation and ways to keep your team engaged and on the same page. For answers to more such queries, watch the entire session here.
What qualities does a startup look for while hiring an intern? What team-building exercises can you undertake during the present work from home situation? Find answers to these questions and more here!
Subscribe to the channel to get updates on the new startup resources, exclusively curated by GUSEC.