WeHear, a GUSEC startup, makes it possible to hear without ears. Here's their story.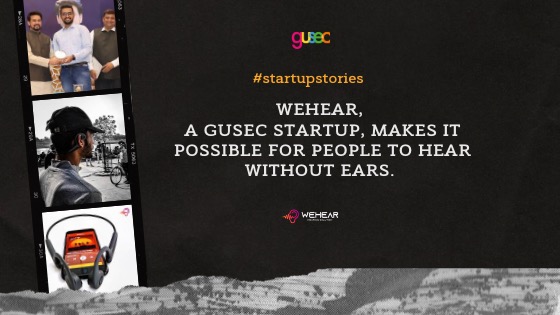 "Coming from a family of academicians, I was always pushed to try new things and explore all academic pursuits and opportunities, and for this reason, I was very excited when I got into college. I couldn't wait to explore the opportunities it offered and seize those to learn and grow. You can imagine my disappointment then when I realised that college was nothing like I had expected." Kanishka says, telling me about how he first got interested in innovation.
"But that never doused my spirits. I was and continued to be engrossed in the know-how of things. While most of my batchmates were job-oriented, I was drawn to the startup ecosystem, owing to the internships I did during my senior year." These internships led Kanishka to develop a sense of innovation and exploration, and would later inspire Kanishka and his friend and co-founder, Siddharth, to develop "Automaid", a self-operating cleaning bot that could be operated remotely from anywhere in the world.
However, in the enthusiasm of their project, they skipped their market research, and realised only later that they invested their time and resources in a product which barely had any demand in the market. But to them, the failure of Automaid only meant, "never skip your market research".
By the time they were developing their second product, they had learned their lesson to not rush sending their product straight into the marketplace. They put in a year and a half of hard work and developed WeHear, a product that utilises bone conduction technology and conveys sound directly to the brain, completely eliminating the use of ears. While the product was developed keeping in mind today's lifestyle wherein people use their earphones/headphones all the time and put their ears at great peril while doing so; the first testing audience of the product single-handedly re-defined the purpose of their startup. 
To test the viability of their product, Siddharth & Kanishka were at a school for the deaf and dumb at Ashram Road in Ahmedabad. A kid who was hearing impaired since birth tried it, and as the lads watched, the kid's reaction transformed from confusion to exhilaration as he realised that it was music he was hearing for the first time. In that moment, it dawned on them that their product had way more potential than they thought it did.
While it was initially hard to market their product because they neither had a medical background nor the support of doctors endorsing WeHear, their incubation at GUSEC solved that problem by getting them the necessary recognition from the Government of Gujarat. This further aided them in establishing their credibility among medical professionals which helped their product reach the end-users. They took extra pains to record the feedback of their initial users and fixed the loopholes. Today, WeHear is changing lives – in every sense of the word. 
Kanishka says that entrepreneurship is not your average business venture, because there are no three-year or five-year plans that work. He talks about the fact that there are new problems in a startup business every day, and that he enjoys tackling these problems. When asked whether he has any wisdom to share with up-and-coming entrepreneurs and innovators, he says, "Sometimes you'll come up with an idea and you'll think it's a genius, million-dollar idea. It may truly be genius, but it's no use if it's not viable. Learn to realize that and move on to a practical one."
Entrepreneurship is a Pandora's Box of opportunities, some so far-reaching that they may even sound far-fetched to those drawn to the box. However, not everyone approaches the box, let alone be curious enough to open it. Only those bold enough to overcome the fear of the unknown, strong enough to fuel their curiosity, brave enough to disregard what the crowd tells them, and naive enough to think they can change the world (or at least, a little portion of it), can dare open it.
After all, who wouldn't like to know what's inside the box?
Want to know what we're up to? Subscribe to our newsletter.