President Droupadi Murmu launches GUSEC's herSTART platform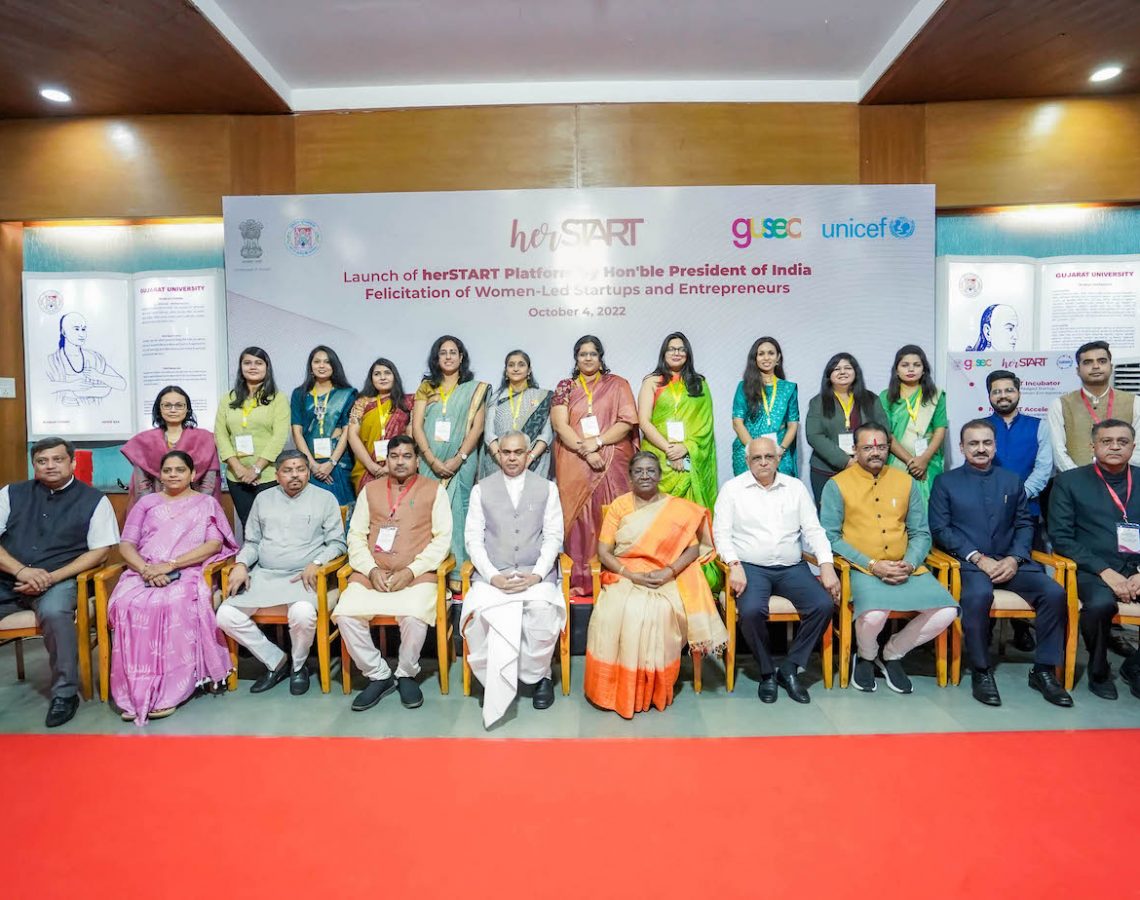 In a major boost to women entrepreneurs in the nation, Hon'ble President also launches herSTART Incubator and herSTART Accelerator, established with the support of UNICEF.
Ahmedabad, October 4: President Smt Droupadi Murmu launched herSTART, an initiative of Gujarat University Startup and Entrepreneurship Council (GUSEC) aimed at supporting women-led startups in scaling up, on Tuesday, the second and final day of her first visit to Gujarat as the President.
The herSTART platform will support women entrepreneurs in helping their innovative ideas take off, and the platform will include a digital platform to provide resources and training modules free of cost to aspiring women entrepreneurs, a digital community for them, and a digital publication to spread their success stories.
The Platform encompasses the herSTART Incubator, a dedicated full-fledged startup incubator for women entrepreneurs and innovators, and the herSTART Accelerator, a round-the-year accelerator programme for high-impact women-led startups, both of which were launched by President Murmu today.
The applications for the accelerator will open in October.
"It is a matter of great pride for me to launch herSTART platform dedicated to women entrepreneurs in this startup-friendly university. I am confident this platform will play an important role in boosting the women entrepreneurs-led innovation and startup ecosystem. It will also be an effective platform to connect women entrepreneurs with government and private undertakings," the Hon'ble President said in her address.
She also said that India has improved its ranking in the recently announced Global Innovation Index  2022 from 81st to 40th. She lauded the Gujarat University for its efforts to promote startups noting that 450 startups are operational in the GU campus and the university is also actively supporting 125 women-led startups.
A large number of women entrepreneurs, startup founders, academicians, and students were present to witness the launch of the various initiatives.
Since the past three years, GUSEC, in partnership with the global multilateral organisation – United Nations Children's Fund (UNICEF) – has been actively working towards creating an innovation support ecosystem for women and school-going children.
Prasanta Dash, Chief of UNICEF Gujarat commented "UNICEF is committed to gender equality and in collaboration with partners we execute programmes and support policies to improve the situation of women and girls. The herSTART platform is one such programme that will inspire many girls and women to pursue their dreams and explore opportunities in the area of entrepreneurship. I congratulate the GUSEC team and the Government of Gujarat for providing women and girls with this platform to boost entrepreneurship together with crucial support in the form of funds, mentorship and international exposure to strengthen the startup ideas. Investing in young women and men and unleashing their power and potential may not just advance India's growth and development story but also carries an enormous potential to transform the global development indicators."
"The inauguration of herSTART platform by Hon'ble President Droupadi Murmu is an honour for Gujarat University and GUSEC. Women have an untapped entrepreneurial potential which we are trying to channelise through various targeted initiatives. The herSTART platform is another step in that direction and we are confident it will encourage more women to launch startups and turn their ideas into reality," said Rahul Bhagchandani, Group CEO, GUSEC.
President Murmu felicitated 10 women-led startups and entrepreneurs who have been creating an impact in their own space through innovation and entrepreneurial interventions, and are supported by Gujarat University and herSTART.
Supported by UNICEF, the government of Gujarat, and the government of India, herSTART has been recognised by the Department for Promotion of Industry and Internal Trade (DPIIT) as a key driving initiative for the Gujarat startup ecosystem in the States Startup Rankings Framework Report of 2022.
There have been engagements through online and offline modes with over 15,000 women entrepreneurs as a part of herSTART. More than 2,000 women-led startups have undergone capacity-building with the participation of over 2,500 women entrepreneurs. Over 200 mature-stage women-led startups have been accelerated under the platform, while 150+ startups are actively scaling up under herSTART.