GUSEC to implement Meta's XR Startup Program, a collaboration with MeitY Startup Hub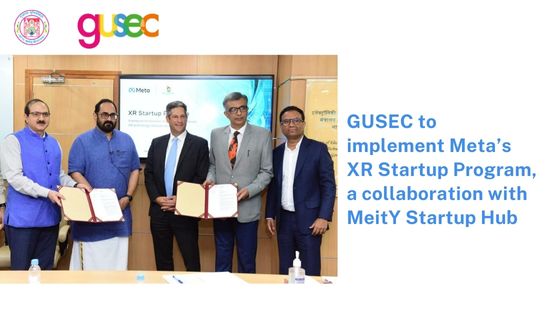 NEW DELHI AND AHMEDABAD | SEPTEMBER 13, 2022: Meta and MeitY Startup Hub (MSH) today announced the launch of the "XR Startup Program" in the presence of  Mr Rajeev Chandrasekhar, Hon'ble Minister of State for Electronics & Information Technology, and Skill Development & Entrepreneurship in New Delhi. The program has been designed to act as a platform to identify and foster startups working on the XR (Augmented Reality, Virtual Reality & Mixed Reality) technologies. The program includes an Accelerator Program and a Grand Challenge. 
GUSEC is one of the implementation partners for the Program and will focus on the Western Indian region for the Accelerator, and Pan India for the Grand Challenge in Education, Learning and Skills. 
Under the Accelerator program, GUSEC will support 10 startups working with XR technologies through a 6-month acceleration program with benefits including a grant worth Rs. 20 Lakhs (each), mentorship by industry experts, access to a network of potential strategic partners and investors, technology and infrastructure support, and opportunities to participate and present at industry events. The grand challenge will encourage early-stage XR innovators in the Education, Learning and Skills sector to upscale from the R&D phase to developing workable products and services. At first 20 innovators will be shortlisted to attend a Bootcamp and get a shortlist grant of Rs 50,000, out of which, a total of 4 innovators will be provided grants of Rs 20 lakhs each and further support to help them develop Minimum Viable Product (MVP)/ prototypes.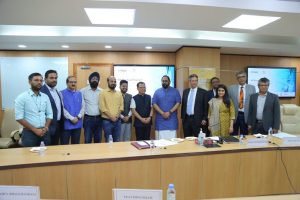 Rajiv Aggarwal, Director and Head of Public Policy, India, Facebook India (Meta), said, "We are excited to launch the XR Startup Hub in collaboration with MeitY Startup Hub. We hope that it will provide a stimulus to India's vibrant tech ecosystem in creating strong foundations for the immersive technologies across sectors like education, healthcare, agritech and tourism."
Jeetendra Vijay, Chief Executive Officer, MeitY Startup Hub, said "GUSEC is one of India's leading startup support systems, which has carved a niche for itself by facilitating startup support at zero cost. We are delighted to have them onboard as one of the Implementation Partners under the XR Startup Program launched in conjunction with Meta. The program aims to accelerate India's contribution towards building the foundations of the metaverse and nurturing the development of Extended Reality (XR) technologies in India."
Rahul Bhagchandani, Group CEO, GUSEC said "GUSEC has played a pivotal role in shaping and nurturing the startup ecosystem of Gujarat since its inception. As an implementation partner of the XR Startup Program, we aim to continue supporting the youth towards the creation of future technologies in India, contributing to the dream of a self-reliant country."
Other implementation partners institutions for the XR Startup Program are FITT, IIT Delhi for the accelerator in the north, and for the grand challenge in Healthcare; Sikkim Manipal University for the accelerator in the east, and for the grand challenge in Agritech, Climate Action, Tourism and Sustainability; and CIE-IIIT Hyderabad for the accelerator in the south, and for the grand challenge in Gaming and Entertainment.
Applications for the accelerator program are open until September 28, 2022, and for the Grand Challenge until October 13, 2022. Applications can be made at gusec.edu.in/xr. Applications for other partners can be accessed through this link: https://meitystartuphub.in/public/xr-startup-program.