Gujarat University in Top 10 Universities in India in Govt of India's ARIIA Rankings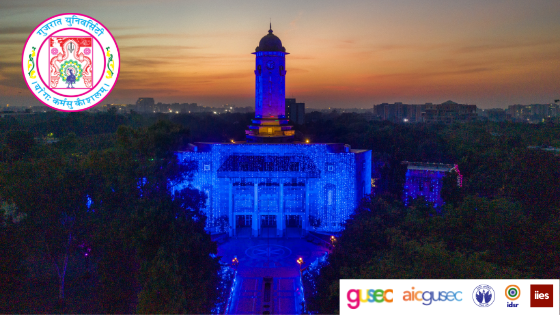 DECEMBER 29, 2021: Gujarat University has emerged in the Top 10 State & Deemed Universities in India under the Atal Ranking of Institutions for Innovation Achievements (ARIIA) as declared by the Ministry of Education, Government of India, today. The University bagged the 9th spot in the national rankings.
Only in 2016, Gujarat University had pioneered the country's first efforts for a non-technical university to initiate activities to identify, nurture and promote innovations and startups. Gujarat University Startup and Entrepreneurship Council, more commonly known as GUSEC, was launched in the same year. GUSEC has historically now supported over 300 startups and is recognised as a NIDHI Technology Business Incubator by the Department of Science and Technology, Government of India; and as a MeitY TIDE 2.0 Incubator under Ministry of Electronics and Information Technology, Government of India. Gujarat University also hosts AIC GUSEC, which is the Atal Incubation Centre of Gujarat University. AIC GUSEC is supported by Atal Innovation Mission under NITI Aayog and has supported over 40 startups.
GUSEC is a sector-agnostic, zero-day zero-cost startup incubator, whereas AIC GUSEC is an incubator focussed on startups with a social impact in their business model. 
Gujarat University has recently received in-principle approval to set up the MSME Incubator by the MSME Ministry, Government of India. Through the support of the Government of Gujarat, Gujarat University is supported under the Student Startup and Innovation Policy (SSIP), which has recognised the efforts of Gujarat University as the Best in Gujarat state for four consecutive years since policy inception. Both GUSEC and AIC GUSEC are recognised as Nodal Institutes for funding startups under the Startup Gujarat initiative.
To promote the spirit of innovation, entrepreneurship culture and a mindset of problem-solving, GUSEC is now in the process of establishing the Vikram Sarabhai Children Innovation Centre (VSCIC) in partnership and with the support of UNICEF. 
Gujarat University is also the only state university in India to have established a Research Park i.e. the Park for Industrial Extension and Research (PIER). 
In the 2020 ARIIA rankings, Gujarat University had emerged in the Top 25 Universities of the country. By being placed at #9 this year, Gujarat University is the only state / deemed university in the state to have made significant progress in the ARIIA Rankings this year.