GUSEC & TiE Delhi host eCourse with interesting Startup Fundraising & Investment insights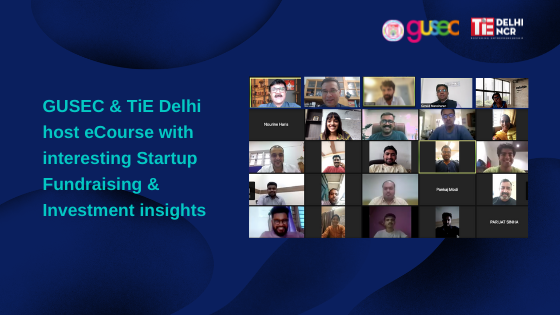 More than 80 participants, most of them students, CAs, CFAs, freshers, professionals in private equity and venture capital, professors, research scholars, aspiring and existing start-up founders, from 37 cities across the country benefited from a recently concluded Short Term Training Program on Startup Fundraising & Investment organised by Gujarat University Startup & Entrepreneurship Council (GUSEC), in partnership with TiE – Delhi.
The eCourse consisted of sessions that enabled participants to get a better understanding of investment and fundraising basics, pitching and pitch deck specifics of the investment cycle, term sheets, valuation and investment cycle specifics, and understanding schemes and benefits of government grants for start-ups. 
Session experts like Ajay Batra (Senior Advisor, Wadhwani Foundation) got participants engrossed in pitching exercises, while Nakul Saxena (Fund Strategy & Investor Relations, LetsVenture) and Karanbir Bhatia (Head – Startup Relations, LetsVenture) clarified the fundamental basics of fundraising for them. 
Term sheets, a comparatively technical concept was simplified by Vatsal Gaur (Partner, Pier Counsel) and Kalpana Jain (Partner, Deloitte) explained to the audiences the importance of valuation and investment cycle. 
An important aspect of fundraising – government grants was demystified for the participants by Gerald Manoharan (Partner, J. Sagar Associates) and Ranjana Singh (Partner & Patent Attorney, K&S Partners).
"Fundraising and investments form the roots of a successful start-up, enabling them to branch out to newer lengths. With this eCourse, we wish to empower individuals to go to the depth of these concepts and benefit from expert insights," said Rahul Bhagchandani, Group CEO, GUSEC.