A Place that beckons. A Vision that thrives. A Team that Delivers.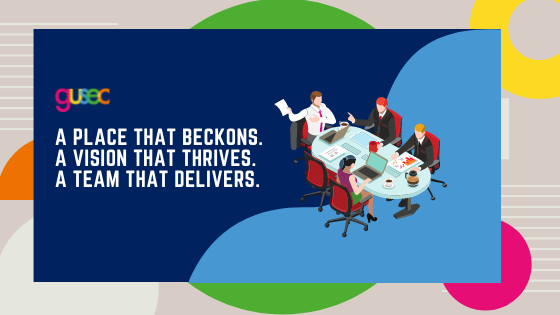 Welcome to GUSEC!
Five years ago, the vision for a place to enable forward-thinking & risk-taking in individuals began to form. But the foundation of this place was laid differently. It was founded not only to encourage people to turn their innovative ideas into reality but also to help them do so without the hassles of administrative procedures. Gujarat University Startup & Entrepreneurship Council thus became India's only startup incubator with a zero-day zero-cost startup support policy. 
Originally beginning with a team of just a couple of officials, GUSEC began with a modest 20 coworking spaces in 2016 and over the years, has thrived both in terms of space and workforce. Today, it features more than 300 coworking spaces for its startups with a team that has worked tirelessly to avail multifaceted support to its startups and also ensured that more individuals can assist the socio-economic development of the country through inclusive programs like the Children Innovation Festival (to promote ideas by school children), herSTART (support women with innovative ideas) & STARTfest (identify ideas by college students).
At GUSEC, we've always believed in empowering ideas, not where they come from. To ensure that this vision was achieved, the GUSEC team was modelled after the structure of a startup itself – lean in structure and efficient in the outcome. At GUSEC, everyone does everything! 
The COVID pandemic left its after-effects at every workplace, and GUSEC wasn't untouched by the same. Owing to the restrictions of COVID, GUSEC now works on a hybrid model, with everyone working out of office, unless they can't. Not just that, the team, while social distancing, is encouraged to make use of the vast GUSEC premises surrounded by the lush green Gujarat University lawns. 
One thing that we really pride ourselves on at GUSEC is the fact that we all have our priorities sorted and that every occasion, no matter how big or small, is celebrated with cheer, congeniality, and a lot of calories. Cakes and party favours begin before an event begins to wrap, and every birthday and anniversary finds an occasion of celebration at GUSEC. Most of the team looks forward to rewinding on the second and fourth Saturdays, while some of us do so playing Monopoly and Sequence in the office itself. With every game the cricket team India plays, the GUSEC team finds itself congregating and clapping along with each other, and with time, has learned to cheer themselves and each other.
Do you think you'd like to be a part of a place like GUSEC? We may have a place for you!
Know more: www.gusec.edu.in/careers.