Facilitating Entrepreneurship & Innovation: the National Education Policy 2020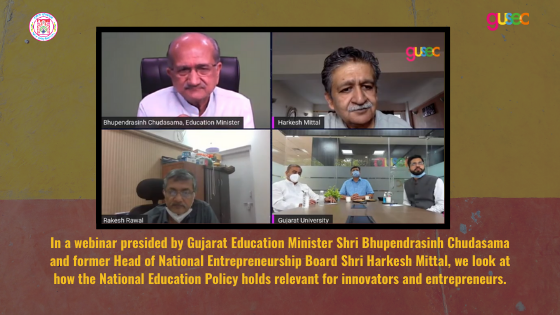 The new National Education Policy has been lauded by many and referred to as the need of the hour and an instrument that'll put the existing Indian education system at par with the advancing world. In many ways, the New Education Policy seems like an endeavor to encourage and inculcate the spirit of innovation, and to an extent, entrepreneurship.  
Focusing on having the children not only learn but more importantly learn how to learn, the policy also talks about pivoting education towards learning about how to think critically and solve problems, how to be creative and multidisciplinary, and how to innovate, adapt, and absorb new material in the novel and changing fields. 
It aims to facilitate a pedagogy that makes education experiential, holistic, integrated, inquiry-driven, discovery-oriented, learner-centered, discussion-based, flexible, – thus instigating a sense of problem-solving and an attitude of innovation in the children, instead of indulging in herd mentality. In a session organized by GUSEC, Shri Harkesh Mittal former head of National Entrepreneurship Board mull over the topic along with Gujarat Education Minister Shri Bhupendrasinh Chudasama, Principal Secretary Ms. Anju Sharma, Vice-Chancellor of Gujarat University, Dr Himanshu Pandya, and Pro-Vice-Chancellor Dr. Jagdish Bhavsar.
From jugaad to Innovation
Principal Secretary for Education, Ms Anju Sharma says that Indians are known for their capabilities for jugaad, which gets the work done, but is neither scalable nor replicable and cannot be standardized. However, innovation is. She praises the multidisciplinary approach that the NEP facilitates, and speaking about the need for the same she says, "I myself am a science graduate but a management post-graduate, and my field of work is in social science." Innovators need a well-rounded education that lets the innovators of tomorrow develop their expertise on all the dimensions of the graph. The NEP helps them become a '3D coordinate' which will enable the student to think laterally and innovatively. 
Knowledge is silver, Action is gold
Recounting his own experience about the time when he first got interested in entrepreneurship, Shri Mittal told the audience that he himself wanted to be an entrepreneur and became an expert in the field, but never became an entrepreneur because he didn't act towards that motive soon enough. Addressing entrepreneurs, he says that it is important to be knowledgeable, but even more important to take a step to implement that knowledge. He says that it is also important for the parents of the children to understand how important it is to make our children job creators and not job seekers. Speaking about the policy, Shri Mittal says that it would facilitate the entrepreneurial pursuits of students dropping out and give them the flexibility to finish school and pursue entrepreneurship simultaneously.
Job seekers, no more
Education Minister Shri Chudasama, addressing the topic, says that the NEP enables students to be industry-ready at a much earlier age, with lesser qualifications, letting them learn and earn together. Moving from a memorizing-based education system to a learning-to-do education system shall revolutionize the future in terms of enhancing the ability of the students to learn by way of doing and not just reading. Undertaking industrial taking and internships while still in school shall enrich students in terms of not just industry-specific skills, but life skills as well. As the third-largest startup ecosystem in the world, it is time for India to usher in the startup culture into schools, and making entrepreneurship more accessible and acceptable. Involving innovators and entrepreneurs in an advisory capacity would definitely be a step forward in that direction.
From a bird's eye perspective, the NEP appears to be an enabler of innovation. Normalizing a risk-taking mindset, it certainly mirrors the level of ambitions of the Greek Argonauts, who banded together in a quest for the golden fleece; and just like the Greek myth, it's an adventure riddled with obstacles, to say the least. 
Watch the entire conversation about Nationational Education Policy here.