GUSEC launched 'accelerateBHARAT' program to identify, nurture and support tech startups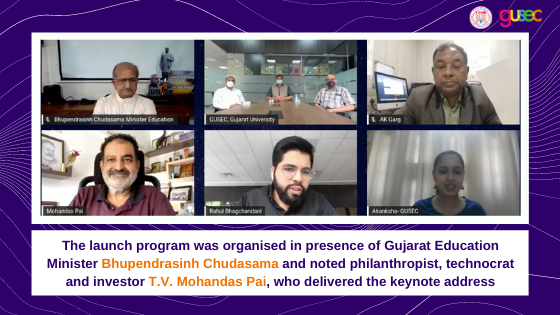 The launch program was organised in presence of Gujarat Education Minister Bhupendrasinh Chudasama and noted philanthropist, technocrat, and investor T.V. Mohandas Pai, who delivered the keynote address.
The accelerator focuses on "Build for Bharat", to support startups using emerging technologies solving challenges in priority areas of India
Ahmedabad, October 19, 2020: In line with its vision of supporting startups & innovation, Gujarat University Startup & Entrepreneurship Council (GUSEC), launched accelerateBHARAT, an accelerator for tech startups. The launch was hosted in the presence of the Chief Guest Minister of Education of Gujarat, Shri Bhupendrasinh Chudasama; Guest of Honour, Shri T V Mohandas Pai, Chairman, 3one4 Capital; Keynote Speaker Dr A K Garg, Director, Ministry of Electronics & IT, Govt. of India; Prof Himanshu Pandya, Vice-Chancellor, Gujarat University; and Dr Jagdish Bhavsar, Pro-Vice chancellor, Gujarat University.
Prof Himanshu Pandya, Vice-Chancellor, Gujarat University, delivering the welcome address said, "A global pandemic has led to a situation where we haven't been able to understand what's happening to our social fabric and our economy, portraying our inability to combat the pandemic effectively. We need the support of the innovative ideas of our youngsters, who can work in India, for India. Gujarat University has been a forerunner when it comes to allowing its students to experiment, allowing them to undertake dissertations beyond their disciplines."
Dr. Ajai Garg, Director, Ministry of Electronics and Information Technology, praising the entrepreneurial mindset of the people of Gujarat, remarked, "Gujarat has always been the state of traders, resilient and self-sufficient people. From a trading community to a community which is actually leading India's growth story in technology, innovation, and incubation with advance solutions coming out of Gujarat is a matter of pride." He further added that India can truly leverage the shift in the global economy because Indian entrepreneurs are providing low-cost, frugal solutions to the entire globe as opposed to Silicon Valley that only catered to the 1.5 billion of elites, and initiatives like accelerateBHARAT shall go a long way at putting India at the forefront of digital transformation. 
Addressing the gathering, Shri Pai said, "COVID has accelerated digitisation globally, with 5 billion people having access to the internet. The habits of the world have changed in the past 6 months, with people heavily relying on e-commerce and edtech. Reliance Jio, yet another endeavor from Gujarat, has done wonders for connectivity. India has 50,000 startups and 40 unicorns, creating about 8,00,000 jobs. Young India has tied up with Prime Minister Modi's dream of Digital India. Connecting all the rungs of the social pyramid is important, and I believe accelerateBHARAT shall work wonders in that regard." He urges entrepreneurs to think global and work big, experiment and fail, and develop a problem-solving mindset in the process.
Shri Bhupendrasinh Chudasama, conveying his thoughts on the subject, said, "We've come a long way from where we began. When I look back to when the foundation of GUSEC was laid in a small room in the university, I hadn't imagined it would come this far. The Gujarat government has taken numerous steps to support startups, and our efforts have been recognised with the state emerging as the top performer for State Startup Rankings for two years in a row. With accelerateBHARAT, we're surely taking a step forward in heading towards an Atmanirbhar Bharat."
The accelerator aims to support idea-stage tech startups, in the fields of AI/ML, AR/VR/MR, IoT, Blockchain, UAVs, Robotics, and 3D Printing, with prime focus on the Healthcare, Education, Agriculture, Financial Inclusion, Environment, Clean Energy, and the Infrastructure sectors. 
accelerateBHARAT shall provide up to INR 22 lakhs in grants and prize monies, with one startup to get ₹7 lakhs, two startups to get ₹4 lakhs each, and seven startups to get ₹1 lakh each. It shall also offer additional support like cloud credits, mentorship, and resources. 
The last date to register for the accelerator is November 18, 2020, and applications can be made at www.gusec.edu.in/ab
Learn more about the address by Chief Guest Hon'ble Education Minister of Gujarat, Shri Bhupendrasinh Chudasama and the Guest of Honour Keynote Speaker Shri T.V. Mohandas Pai, click here.