GUSEC Startups make it to the Finals of National Startup Awards 2020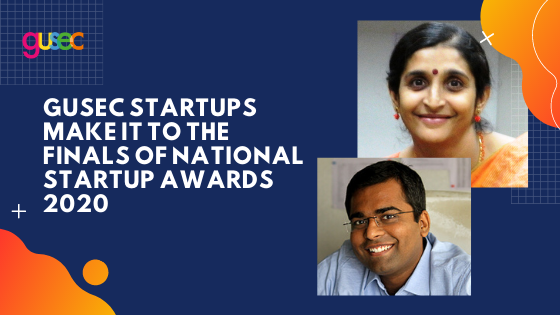 In lieu of celebrating innovation and rewarding entrepreneurs for their efforts in making the country self-reliant, the Department for Promotion of Industry and Internal Trade organised the First edition of the National Startup Awards, awarding startups from 12 different sectors (further divided into 35 sub-categories and 3 special categories). The startups were evaluated on parameters like innovation, scalability, economic, environmental & social impact,  and inclusiveness. The awards were given away by Union Minister of Railways and Commerce & Industry, Shri Piyush Goyal.
Plutomen & SciKnowTech
Out of a total of 1641 applications received,  two of GUSEC's startups, Plutomen Technologies Pvt. Ltd., and SciKnowTech Experiential Learning made it to the finals of the Awards. Addressing the same, Keyur Bhalavat, Founder & Director of Plutomen says, "It was a moment of pride to be the only finalist in the Augmented Reality domain." Lauding the efforts of Startup India, India Invest, et al., in conducting the event during the pandemic he says, "Achieving this accolade shall inspire us to work harder towards empowering industrial enterprises on their journey to digital transformation."  
Talking about making their place as one of the finalists, the founders of SciKnowTech(one of the eight startups in the access to open education category), Dr. Megha Bhatt & Mr. Saleel Bhatt say, "winning the award makes you happy, but getting recognition & visibility at the national platform as an innovative education initiative is extremely satisfying, especially after 5+ years of extreme hard work for facilitating creative learning in children". "This recognition has lifted our spirits beyond limits to implement our plans about going virtual for better cognizance of SciKnowTech. GUSEC has been a solid back-bone to the endeavour in terms of mentorship & support in all forms and SciKnowTech founders are keen to give back to the society in general and GUSEC in particular."
The National Startup Awards aim at guiding organisations to stop measuring success in terms of gains for investors and instead, focus on giving back to society and solving key community issues, while also developing innovative technologies and building sustainable and scalable businesses.