Grand Challenge for development of "Smart water supply measurement and monitoring system"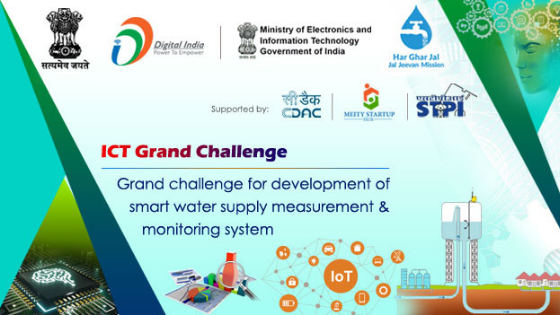 ICT Grand Challenge 2020
Aim 
To conduct an ICT Grand Challenge which bring innovative, modular, and costeffective solution to develop a "Smart water supply measurement and monitoring system" to be deployed at the village / semi-rural / semi-urban levels. The system would collect and facilitate centralised monitoring of data.
ICT Grand Challenge Problem Statement: The ICT grand challenge invites proposal for developing a 'Smart water supply measurement and monitoring system'(Details about the problem statement are given in the Attached Document section below)
Awards & Recognition
Stage–1 (Ideation to Prototype Stage): 10 proposals will be shortlisted and provided financial support to the tune of Rs. 7.5 Lakh each to develop a working prototype of the proposed solution within two months duration (max).
Stage – 2 (Prototype to Product Stage): Best four techno-economically viable prototype shall be selected for product development and each team will receive Rs 25 Lakh to build their solution as per the need of the user agency within three months duration (max) and subsequently field trial, testing& deployment and demonstration at approx. 25 locations across the country as identified by user agency in next one month. These four teams shall be provided with financial support for necessary handholding by the Jal Jeevan Mission, MeitY and the implementing agency (CDAC) for testing, deployment and demonstration at the live site. For these field trials, each finalist will be provided the following financial support:
towards sourcing and installation of devices/solutions deployment
towards logistics and other contingency expenses @10 lakhs each 
Stage – 3 (Product Deployment Stage): Based on evaluation, one winner and two runner-ups will be selected and supported by 50 Lakh (winner) and 20 Lakh each (runner-ups).
ELIGIBILTY
The Indian Tech start-ups, MSMEs, Companies, LLPs registered in India under Companies Act can apply. The entity must have 51% or more shareholding with Indian citizen or person of Indian origin. The applicant's entity should not be a subsidiary company of any foreign corporation.
To  encourage  participation  from  academia  and  industry, participating  teams  are  not  mandatorily  required  to  be registered  Indian Companies/  startups / MSMEs LLPs to  apply  for  the  challenge.  However,  the  10  teams shortlisted at Ideation Stage will be required to apply for registration as Indian Startups/ Company/ MSMEs/ LLPs  and  submit  the  proof  of  having  applied  at  stage  of submission of Prototype. It will be expected that by the time of selection at the final stage, necessary registration will be completed.
iii. It may be noted that funds will be transferred only in the bank accounts of Startups/Company / MSMEs / LLPs and not in the bank accounts of individuals.
APPLICATIONS DUE DATE: Oct 05, 2020
Contact details
MeitY Startup Hub(MSH)
Ministry of Electronics and Information Technology(MeitY)
Electronics Niketan, 6 CGO Complex
New Delhi 110003
Phone:-011-24301419
Email:-  [email protected]
[email protected] (Technical queries related to form filling and submission)
* For more information and clarity on the submission of solution, Terms and Conditions and Timelines, please refer the document attached below.
**The application form can also be submitted as attachment while filling the online form under the Question 18 "Attach the proposal". The  "Questions form" is provided in the "attached document" section below.
ATTACHED DOCUMENTS
---
Questions Form_Grand Challenge