The Good, the Bad, & the Ugly: The Nuances of a Startup Ecosystem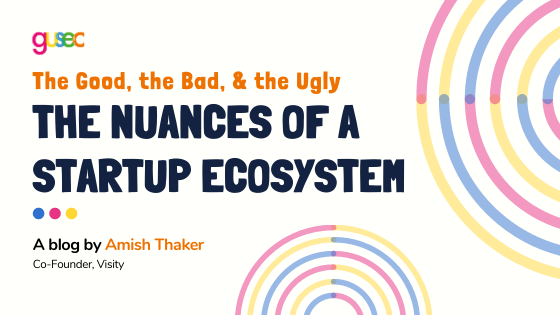 What is the importance of a startup community, and why should a startup be a part of it? 
While others may feel differently, I have had my own opinion about this question, something which I will try to share with you through this guest blog, and through my own experiences. Stay put!
I am a software guy, to begin with. And for those who don't know, software and hardware may seem complementary to each other, but software and hardware guys live in different spheres of the technology world, and often have little to no idea about the other. But the perks of being an incubated startup, being amongst other innovators, we ended up developing a project with both software and hardware. It may not seem like a big deal, but those who know, they know that it is. This was possible only because we all were in the right place at the right time. 
This is just one of the many instances where owing to the sharing of ideas and expertise, ideas were fostered and products were developed. This other time, I was required to shoot a video. I knew nothing about how to shoot one, so I casually asked around. Someone offered their tripod, someone helped me record the video. Yet another person helped me edit it on Adobe Premiere Pro. When I had begun recording it, I estimated it would take an entire day. To my surprise, the video was ready in just a few hours. Countless such exchanges happen every day. 
Another advantage that being incubated at GUSEC will give you is the awesome co-working space that is truly a life-saver. It is a prime real-estate, located in the heart of the city, and we can access it, at no cost whatsoever. Besides that, because there are no deadlines and set working hours for entrepreneurs and innovators – this co-working space is open 9 AM to 11 PM, throughout the week.  I have lost track of the number of times the security guard would hover and wait around for us to leave to lock the premises before the lockdown. #GoodTimes
There was this one time when we requested for a Mac since one can upload an app to the iOS App Store only through a Mac. Our request was easily approved and we got one soon after. It was hassle-free and saved us a lot of money. I'd also like to give part of the credit to the GUSEC Team, who have (thankfully) not been control freaks and have always been open to us experimenting, failing, and learning from our mistakes and experimenting again, without having to worry about failing – something that is integral learning when you're in the startup business.
One of the coolest things, however, that happen at a place like GUSEC is that you get to meet so many diverse startup founders and co-founders, all belonging to different fields, all carrying diverse experiences, and expertise, and you get to learn so much from each other, something that can never happen when you're on your own.
These are the small, but significant perks of being amongst like-minded people who are all trying to make it in their entrepreneurial journeys, and it was made possible because of the exceptional startup ecosystem we ended up being a part of.
Amish Thaker is the co-founder of Visity, a contactless solution for visitor management, booking appointments and employee attendance, is based in Ahmedabad