Bioplastic, a GUSEC Startup makes self-decomposing plastic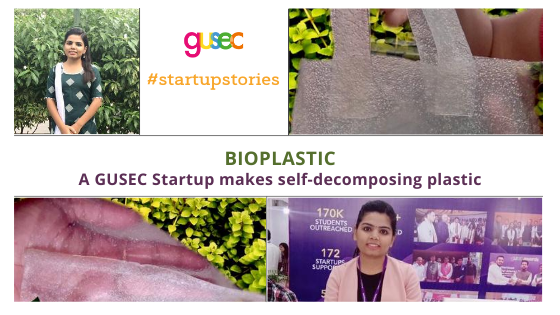 In late 2019, even before the Government of India announced its goal to phase out single-use plastic by 2022, a lot of plasticware and plastic bag manufacturing units were gradually shut down all across the country, resulting in thousands of unemployed individuals, struggling to find livelihood to support their families. Many states have banned single-use plastic ever since.
Amid this scenario, how do we strive to reduce our plastic footprint on the environment while also taking care of the livelihoods of those previously employed in plastic manufacturing industries? I'd like to take this opportunity to introduce  Bioplastic, a green and truly sustainable replacement for plastic.
Ms Bindi Patel, the founder of Bioplastic, first got acquainted with how serious the problem of plastic pollution was in September 2018, while taking part in a competition titled Science Excellence, wherein she built upon a very basic idea of replacing plastic with something biodegradable and one which was less detrimental to the environment. Her idea was appreciated by the jury in the competition who encouraged her to develop it further since nothing of the sort was currently available.
This was when she started doing trials looking for a formidable foe to plastic. Her classmate and friend, Rahul Katara, became her co-founder during this time. She first tried banana leaves and then atta (flour), both of which were biodegradable but not durable. Aided by Rahul's expert knowledge about plant science and material science, she started making pellets out of a secret sauce that finally worked. Sometimes the shape wouldn't be in order, sometimes the material would disintegrate, but that, in no way, stopped Bindi from undertaking hundreds of trials, night after night, after her parents went to sleep; throughout which Rahul remained her constant source of brainstorming and motivation. While this was hugely impossible, and not a procedure one would recommend trying at home, Bindi managed to make biodegradable carry bags at home, all by herself.
In December 2018, Rahul & Bindi took part in Entrepreneurship Conclave 2018 competition which required a business model representation, and it was here that Rahul laid the base of their business proposal and Bindi presented the very first of the Bioplastic carry bags she had made. Her innovation was rewarded with the runner-up position along with prize money of Rs. 10,000. The judges of the competition urged them to commercialise the product, which led Bioplastic to get incubated at GUSEC in January 2019. Supported by GUSEC, she then started taking trials at the labs of Central Institute of Plastics Engineering & Technology (CIPET).
Around the same time, GUSEC's herSTART, an initiative to boost women entrepreneurs commenced and Bindi participated in it with her idea, Bioplastic. The fact that she had kept on incorporating changes in her product based on the recommendations of juries in the previous competitions gave Bioplastic an edge over other ideas, and it ended up becoming one of the winning ideas of herSTART.
Bindi talks about how she realised the important aspects of a startup after she came to GUSEC, where she came to know of the essence of what a startup was, how does one come up with a viable business plan, and why a patent is important. Getting incubated at GUSEC helped her realize the importance of IP protection, and got her the SSIP Grant. While Rahul continues to look after the business aspect and also single-handedly drafted the patent, Bindi also credits other startup founders incubated at GUSEC, especially Bhavini Mehta of Outliers Publishing & Vedant Mankad of JustFreights (both incubatees at GUSEC), for helping her out with the commercial aspects of the business. 
Bioplastic is now a registered company, and the process invented by Bindi for Bioplastic manufacturing is now patent-pending. Bindi & Rahul plan to commercialise the product so plastic manufacturers throughout the country can start the production of Bioplastic carry bags as a priority. They also modified Bioplastic to work on regular industrial-grade machines, a milestone they achieved by experimenting at various plastic manufacturing units in Bhavnagar, Anand and Vadodara. Just like normal plastic, it comes in different grades of pellets which can be used to manufacture disposable items, carry bags, industrial-grade equipment, and 3D printing filaments.
Initially, Bindi's parents wanted her to move to Canada and settle with the rest of the family there, but she insisted on staying and told them "I want to build my own Canada, in India". As per a 2015 United Nations Development Program report, about 67% of women in rural areas and 68% of women in the urban areas are unemployed graduates. If only we encourage more women to be career-oriented instead of being homemakers, we would have more women like Bindi amidst us. I believe that when we talk about equality, it's not just equality in resources and opportunities, but equality in upbringing and morals, one where we teach daughters and sisters to be ambitious and sons and brothers to be virtuous. And while that would take years to change the current societal status quo, it isn't something that we can't start doing today itself.
In the meanwhile, we can all do our bit in phasing out single-use plastics. Switch to Bioplastic!