Team GUSEC's work from home experience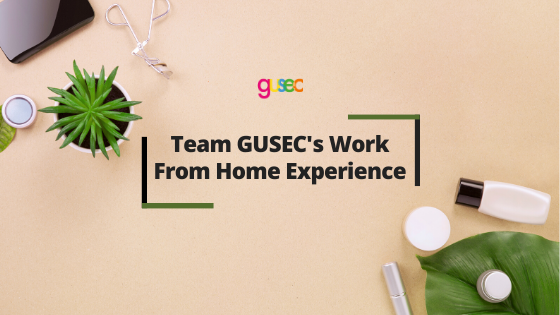 People everywhere have different opinions on whether or not working from home is better than working from the office. Read on to find out what the team at GUSEC thinks.
There are two types of people in the world today:
"The only commute I do these days is from my work desk to the kitchen"
"I never imagined I would spend four months working in my pajamas"
"Zoom calls are fun! Sometimes I look at my colleagues' home backgrounds to figure out which one's secretly rich. By the way, it's Ria. She has a chandelier in her apartment."
 And:
"I keep checking my phone. Work from home sucks."
"I miss the view from my office desk. I wonder if someone is watering the office plants."
"Working on your couch is only fun until you fall asleep on it and wake up to 20 missed deadlines and a neck sprain 2 hours later."
"I miss eating the Kathiyawadi lunch my colleague's mom made. I hate this sandwich."
Love it or hate it, work from home (WFH) is here to stay. Maybe the pandemic will be over soon. Maybe 2021 will be our year. While we can only hope for those, the lockdown will have heavy reverberations in the time to come. With that thought in mind, we asked our team at GUSEC how much they like working from the comfort of their homes. Besides the obvious advantages of saving on commuting time and increased focus and productivity, keep scrolling to read how the team at GUSEC is adjusting to the new normal.
WHAT'S NEW, SCOOBY DOO?
While some of us have been trying to use the time that was massacred in commuting to get a headstart on their work schedules, others in our team have been utilising it to pursue value-adding courses and assisting their family with the household chores. Priyanka has started to workout and Ankit finally has the time to take Polo, his pet pug on walks. Owing to the lockdown, Malay & Ankit participated in the virtual onboarding of new employees –  the first of its kind.
PRODUCTIVE MUCH?
One benefit of working from home is the fact that it's just you and your laptop, and no outside distractions. While in office, you meet a lot of unexpected visitors, all of whom are crucial to keep communication flowing; but may also end up taking the time that could've been utilised in completing other tasks. Ankit says that his productivity went down initially as he had to help around the house, and had to compensate for the same with working late, and Priyanka found it hard to sit in a room and concentrate on work. Sagar tells me that staying at home made him anxious, and Pranav felt odd working from home in the beginning, but at the same time, eating healthier and spending more time with the family helped him be less stressful, thereby resulting in better productivity.
I for one, couldn't help but get distracted with my phone and loathed myself for procrastinating too much. However, given the fact that all my work involves writing, working from home gave me the creative space I needed where I could work without any disruptions.
HOME V. OFFICE
Akanksha has been able to partake of every meal, something she often missed on before. Malay says, "On days when work finishes before 7, I get to relax, sometimes read a little before my family starts calling for me". Oh, also, Akanksha and Malay are both into gardening. Who knew?
Koshali has been able to help her mom with the chores, allowing her to indulge in cooking at times. Rahul, our group CEO, says that while working from home allows him to be quicker in responses and gives him the time to write proposals, do-over reports and tweak graphics, they aren't as effective in forging new professional relationships, something which is only possible when you actually meet people.
Personally, thanks to working from home, every time I have a heavy lunch or just can't concentrate, I can take power naps. Nevertheless, I look forward to working from the office because when you have people working around you, it instils the 'let's get this done' attitude in your mind and enables you to finish work sooner.
VIRTUAL TEAM CALLS
Who would've thought that we'll all be Zoom/Google Meet/Cisco Webex users one day? But then, who would've thought that people would finally start paying attention to their personal hygiene. GUSEC, for one, has been getting a lot more work done
During the pandemic, it has organized about 60 events, with about 23,000 participants; which would've never been made possible without the efficient planning, communication, and coordination among the team, courtesy of video calling platforms. While Koshali feels that team calls are sometimes redundant for those who have no specific updates for/from their departments, many others feel that it still helps keeping the agenda of the next day in place.
Being someone who hasn't yet gotten the chance to work with the team at the office, it was during these team calls that I learned how GUSEC isn't a place with 'all work and no play'. And apparently, many of my colleagues share the same sentiment – Sagar says he enjoys the team cribbing about the pandemic and talking about their favourite Netflix/Hotstar/Prime specials, and Priyanka says she likes how the team pulling each other's legs during the team calls makes her feel at comfort with everyone, despite the hierarchy. Akanksha credits virtual calls for helping her develop virtual communication skills. Malay, however, is irked by the fact that most team members keep their videos off during the call, which would otherwise make the calls more engaging and help in team-building. "It feels out-of-place to be looking at everyone's initials instead of their faces", he says.
MAJOR MISSING: Hot Chocolate & the Coffee Machine
Yes, WFH is comfortable and gives you a lot of flexibility. Does that mean that nobody misses coming to the office? Most certainly not.
Zil looks forward to having a shot of espresso mixed with hot chocolate topped with foamed milk and the peacocks in the parking lot and the campus; Sagar and Priyanka miss the Bottomless Coffee Machine. Malay and Sagar look forward to when they can sit across the table with the rest of the team at lunch.
Ankit, Juned and Sagar miss working on their desks, and Juned & Sagar terribly miss the hot chocolate. Sagar tells me how he used to cherish the view of the upper-level meeting area with his (apparently everyone's) favourite beverage. The one thing that Pranav misses the most is the team playing board games during breaks, and looks forward to when we can go back to playing Sequence and Monopoly again.
Rahul, Pranav, & Sagar miss the team's traditional 'Chai pe Charcha' where everyone went out to a nearby kitli for tea in the evening, and the team bonding over monthly team dinners; and everyone looks forward to meeting each other and the startups as soon as that becomes a possibility.
YAY OR NAY?
While working from home and the office have their own nuances, all we can really do is enjoy it while it lasts. Yes, sometimes the prospect of watching "one more episode" of your favourite Netflix thriller may seem too tempting, it only lasts until your need to be productive kicks in. Did I ever imagine that the first time I begin working after graduation, I will get acquainted with my colleagues months before actually meeting them? No. Will it help me be less socially anxious when I actually meet them? Absolutely. While I still look forward to working from office and having a colleague to share the workspace with, if you're still looking for an excuse to go tell your best friend at work that you miss them (or their lunch), I'm giving you one now. And until you cannot personally go to the office, stay safe, wear your masks, wash your hands, and thank God for all the time and fuel you saved from lack of commuting, and from staying away from all the idiots on the road.