AltMat: Getting the Best out of Waste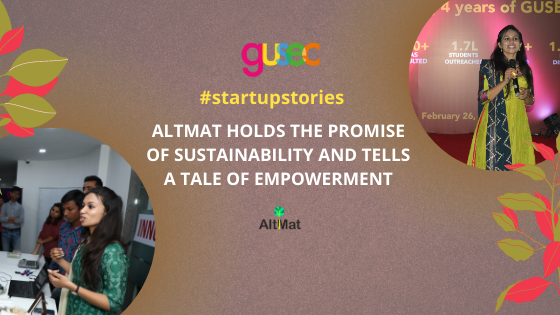 It is no secret how textile manufacturing is not only one of the biggest water consuming units in the industry but also one of the most polluting ones. About 10,000 litres of water is used to make 3 pairs of cotton jeans, which is the same amount a person requires to survive for three years. Cotton alone requires 24% pesticides and 11% insecticides out of the total used worldwide; the discarded water thus spreading to water bodies and seeping into the earth, poisoning everything in their path. Non-natural, plastic-like fibres viz. polyester, nylon, etc. cause an even deeper environmental impact. What options, if any, do brands and textile supply chains have with respect to sustainable practices?
Shikha mulled over the same question during a project on entrepreneurial opportunities in textile supply chain management during her graduate school, and then again during a project on hemp as a raw material for textile industries during her post-grad. All that followed henceforth is what we see in the form of AltMat today.
Shikha's inspiration for converting agricultural waste into textile fibres came from her father, who isin the business of buying worn-out automobile batteries and recycling them into usable metals. AltMat provides sustainable material options for textile industries while also thoroughly utilising agricultural waste by converting them into textile fibres. It uses  plant materials which are burnt or  discarded as waste or are used for low value products. It converts them into fibre that is biodegradable in land and in water, has no microplastics and a short cultivation cycle, uses minimal to no pesticides, and is therefore organic. It is also socially inclusive and plans to work with farmers and manufacturers to help them monetise the waste which they previously discarded/burned, by converting it into a sustainable fabric. 
In order to expand into the correct markets, it was important to recognise the areas of the society that could benefit from this fabric. For AltMat, this guidance came from GUSEC. Through effective guidance and productive networking, AltMat developed an environmentally sustainable and socially inclusive product and ended up procuring a Prototyping Grant worth Rs. 10 lakhs. It further redefined the functionality of their product and made an antibacterial, anti-UV fabric which allows better air permeability, better absorption, and is bendable with other natural, synthetic and semi-synthetic materials, with compatible dyeability. The fabric is weather accommodating and fights sweat and odour as well. 
Startups incubated at GUSEC are often encouraged to participate in conferences and to think about how their product can be effectively used at various places in society. At one such conference, AltMat explored the possibility of making fabric for the Indian Army. By getting the correct nudge in the right direction, at the perfect time, AltMat has begun to grow in spheres where its product shall thrive. It plans on  revolutionising textiles used in manufacturing suits and shirtings, medical textiles, undergarments and lingerie, fashion accessories, denims, diapers and sanitary pads, and sportswear in the time to come.
Today, AltMat is altering the way we look at sustainability, one fabric at a time. By giving her passion the colour of reality, Shikha continues to inspire people, and especially women, to keep doing what they love. For all her efforts and hard work, Ms. Shah was also awarded the Women Transforming India Award, 2018 by the United Nations & NITI Aayog, Govt. of India; and earned the special appreciation of the Ministry of Textiles, Govt. of India. Sustainability will not come easy, but it is pertinent that we all do our part in helping the planet recuperate, and leave a greener, healthier legacy for the generations to come; and I believe we can all be inspired from Shikha's story and take a step towards a sustainable future.
Want to know what we're up to? Subscribe to our newsletter.