Alagrand: Helping Local Brands go Global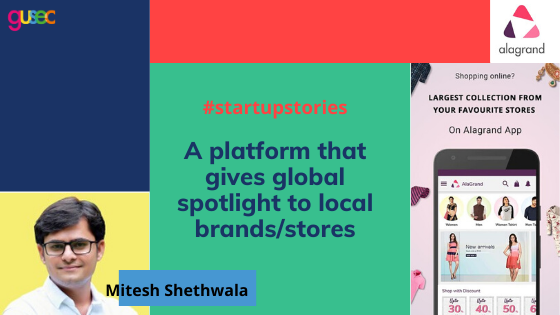 From building websites of other companies to starting his own: read about Mitesh Shethwala's journey & his startup Alagrand (now acquihired by Frendy), a platform that gives global spotlight to local brands/stores.
 Even Bruce Wayne couldn't be Batman without Alfred. Read on to find why being an entrepreneur is tougher than being a superhero; and how Mitesh Shethwala of Alagrand (now acquihired by Frendy) fared in the seas and emerged on the shore, victorious.
"I was absolutely clueless about what I wanted to do with my life, for the longest time." Mitesh recalls. "I kept trying my hands at different enterprises, but none of them materialized essentially. However, one thing that I learned as I kept on developing websites was that I had gotten fairly proficient at the technical aspect of businesses." 
Eight years ago, during a very casual conversation at a chai kitli near the National Institute of Design, he met a young lad who told him that he was on the lookout for a new job. Mitesh told him how he was going to start his own company – and that's how he laid the foundation of You Dedicated (his first IT venture) and subsequently, Alagrand; a company that provided local stores and brands with a bigger platform for visibility – with just one employee. But the journey from then to now wasn't easy – to say the least.
To begin with, Mitesh had no experience, contacts, or the knowledge of what works in the startup business, and what doesn't – but that only increased his chances of failing at his initial ideas. He had a hard time raising funds, and the fact that most investors in Ahmedabad do not favour e-commerce or venture capital only added to his woes. Things got even worse due to the demonetisation when he almost shut Alagrand down. The need to raise funds was so dire that Mitesh put his marriage on hold for two years. More than 120 investors turned him down, but that didn't stop him from trying. 
His troubles about investments died down consequently when Alagrand became one of GUSEC's earliest incubatees. He credits GUSEC for providing them with co-working space that helped them save on other expenses and eventually hire more employees. One month after demonetisation, Alagrand secured seed funding at a valuation of USD 3 million, which helped them scale. Three years later, based on their technology and the amazing team Mitesh had built, Alagrand went on to be acquihired by Frendy, a social e-commerce platform.
When asked what kept him going, Mitesh answers gracefully, "Accept the fact that not everything works the way you expect it to in both, personal and professional life. Accept that you failed, and take time to fix it. If Google, after investing millions of dollars in products can accept that it failed, so can you".
But even before these hurdles, Mitesh overcame his biggest one. One thing that evades the understanding of most people is the fact that entrepreneurship is a one-person job; and sometimes, looking after the nitty-gritty all by yourself can take its toll. While in the midst of jobs and in the quandary of whether to take a new job or start a business of his own, Mitesh fell prey to depression. "For about eight months, I stayed home, and I remember doing nothing but watching the time pass by."  Although it wasn't easy or didn't happen in one day, his desire to innovate and empower people trumped everything else.
Even after Alagrand had the funds, Mitesh never slowed down. In the beginning, he worked 16-18 hour shifts, slept in his car and went home only on the weekends. He stresses the fact that not having any expert knowledge about a business increased his chances at failing, which eventually led him to learn even more. 
He urges all those venturing out to be entrepreneurs, to get used to, and not be afraid, of failing. Besides the people who pushed him to quit his job and start his own venture, he credits the sole success of Alagrand to his employees, who stayed with him through thick and thin. 
Even after building Alagrand from scratch, leaving multiple jobs and overcoming depression, when I ask Mitesh what his greatest accomplishment has been so far, he says that it's being able to generate jobs and helping people support their families. He takes pride in the fact that Alagrand has not lost a single employee in the past 3.5 years, and says, "For me, it has, and will always be about people, not profit,". 
When I asked Mitesh as to how he'd like to be remembered, he answers without thought, and with immense humility, "I want people to find inspiration in the fact that I, as a layman could accomplish such heights, having knowing nothing about anything, and when I could do it, they can, too."
One of the many reasons people may refuse to venture into entrepreneurship and would rather take up a job that regularly pays the bills is the deep-rooted fear of failing, but anyone reading Mitesh's story may take away the lesson that it isn't success or failure that defines a person, but how one chooses to react to it. Some days will be lonely and deserted, and you may feel like you're carrying the weight of the world on your shoulders; on other days, the same weight of the world will empower you to keep going. "If you don't give up on your dreams, they will return the favour."
"They always do."
Want to know what we're up to? Subscribe to our newsletter.