GUSEC & Hubspot- How should Startups Approach Sales & Marketing?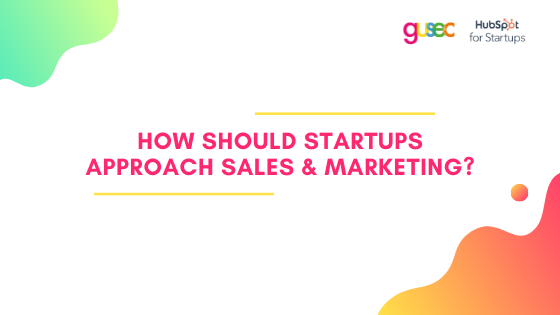 An early-stage startup faces a lot of problems, and one of those aspects, probably the most important one, concerns sales and marketing. Even after diligent efforts, one may find themselves wondering why their message isn't getting through to their audience, or why they're unable to find any right leads. In order to give startups some insights on how to convert and retain prospects, GUSEC and Hubspot for Startups conducted a series of interactive sessions with startups discussing sales and marketing, especially for early-stage startups. 
The purpose of the three-part series was to allow startups to get a deep dive into inbound marketing and sales strategies. The introductory session started on June 17, 2020, followed by the second session on June 24, and the concluding session on July 1, 2020.
Day1: 17 June 2020
Conversation with Dan Tyre, Director at Hubspot, Vaibhav Jain, CEO Hubilo, Aditya Kumar, Head of Growth & Partnerships- APAC(Hubspot for Startups)
When a startup first begins to reach out to its prospects and customers to build awareness, their perception of a startup's brand is pure noise. Dan Tyre made sure to explain how a startup can break through the clutter. 
Dan says that his one motto in life has always been "trying to do the most good for the universe", and with changing times, the objective and attitude of salespersons needs to change from 'always closing the deal' to 'always being helpful'. Why and how can this thought process help grow sales? 
Before a startup initiates marketing or sales activities, it needs to have a Unique Selling Proposition (USP). A startup promoter must be able to convey this USP within 15-30 seconds, bringing clarity to one's pitch. 
Other few key takeaways from Dan's session are as below:
On average, each business/startup has at least 44 other competitors, and vouching on a salesperson can't help you gain the maximum, but your website can. 

It's important to have the USP very well conveyed on your website, and to the remotest corners of the world. 

One must first focus on building a community for their product or service, and looking into the technical aspects from thereon.

Work on building trust through your buyer's journey and develop an improved understanding of your lead. 

Inbound Marketing helps connect all the dots in sales, marketing, and customer service domains. 

Advice for the entrepreneurs: Always have a forecast and lean into the technology
The second part of the session was a conversation with Vaibhav Jain and Hubilo's journey since the inception. 
Hubilo started with an event tech-management software for large scale enterprises and conferences, but recently pivoted to a virtual events platform. 
Some key takeaways from Vaibhav and Aditya's conversation:
Try reaching out to people even before your offering is ready- as it takes time to build the right messaging and awareness.

Hubilo initially used 10-12 tools to manage their sales and marketing, but a single software that can make sense of the buyer's journey at each stage is always more helpful. One such platform that has proved useful to Hubilo, is Hubspot.

A lot of startups tend to monitor their results on the basis of vanity metrics, make sure to gauge the right metrics. 
The session was followed by interaction with the viewers and a brief question/answer session related to sales and marketing. Watch the entire video here.
Day2: 24 June 2020
Conversation with Adarsh Noronha, Director at Hubspot India, Archan Dholakia, Marketing Head at Hubilo, Aditya Kumar, Head of Growth & Partnerships- APAC(Hubspot for Startups)
Key Learnings from 2019 in Asia across ~ 3265 startups(Hubspot Survey):
Amazing startups, but way they go-to-market, sell & market  needs tweaking 

USP, messaging, personalization and quality content on the website should be worked on

Importance of better segmentation and persona understanding

There needs to be a scalable and repeatable sales and marketing method 

Siloed sales and marketing leads to poor customer experience. 
The right strategy supported by the right processes helps in the building and growth of any startup. 
Adarsh's session was followed by Aditya describing the facets of inbound marketing, some of which consisted of:
Buyer's journey, experience assisting in creating a buyer persona

Importance of message automation and personalization 

How monitoring of analytics and metrics leads to growth 

Aspects of the technology stack to help one tap into each step of this process
Aditya emphasizes on the fact that the buyer's journey is not a funnel but a fly-wheel. Watch the entire video here. 
We were also joined by Archana Dholakia via Fireside chat, who walked the audience through Hubilo's techniques of generating leads through inbound marketing and collaborating with their Sales team to build the outreach strategy. 
Day 3: 1 July 2020
Startup Interaction with Aditya Kumar, Aditya Deshpande- Growth Specialist- Hubspot, India and Ankita Jha- Enterprise Sales- Hubspot, India
This was the concluding session where startups got to interact with the panel who helped them resolve their individual queries related to sales and marketing. 
The entire series was specifically tailored to interact with and address the needs of early-stage startups. Each of these sessions enabled the startup participants to dig deeper into the new era of inbound marketing where outreach, sales, and customer service are linked together to give the customer a satisfactory experience.  If you find this piece of blog interesting, you may go through the entire session here.
Want to know what we're up to? Subscribe to our newsletter.