JumpStart by GUSEC: Get Rs. 40000 As Pre-Seed Grant For Your Big Idea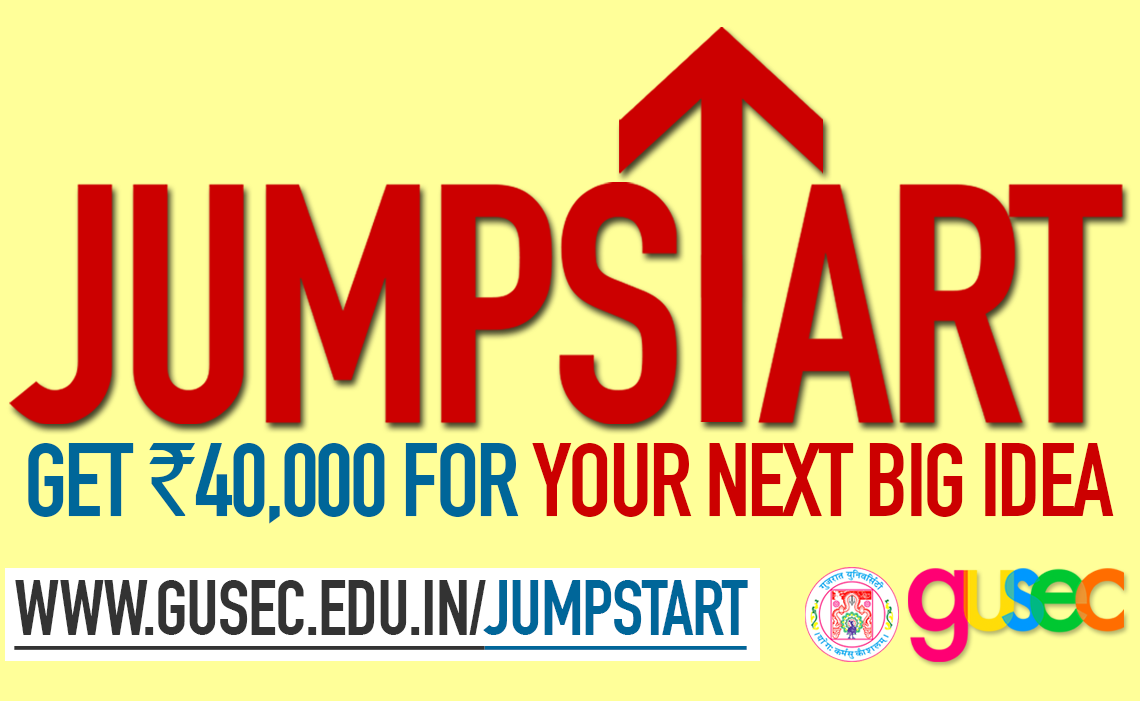 Gujarat University Startup and Entrepreneurship Council (GUSEC) in association with the Gujarat Corporate Social Responsibility Authority and Entrepreneurship Development Institute is organising JumpStart, a pre-seed funding opportunity for innovative ideas and startups.
Under JumpStart, selected ideas shall receive Rs. 40,000 in grant money from GCSRA as well as incubation support, infrastructure support, mentorship, guidance, further financial assistance along with all other support from GUSEC.
GUSEC or GCSRA shall take no equity in the idea / startup against this fund, as this fund is purely a grant. The Rs. 40,000 shall be disbursed at one go, upon successful selection of an idea / startup.
While anyone with an idea can apply for JumpStart, innovations and startups at idea- and prototype-stage with a social angle shall be given higher preference in allotment of the grants.
"Not only are we providing enterprising and innovative students with a working space and all other necessary facilities, support and mentorship, with the help of GCSRA we are also able to provide funds that shall allow our students to jump start and start up. Last year, we awarded Rs. 40,000 each to 12 startups and their growth was exceptional – and accordingly, this year we hope to support as many ideas and innovations as possible, and hence we are allowing anyone to apply for the grants, and not restricting it to just startups and students of the University," said Himanshu Pandya, incharge Vice-Chancellor of Gujarat University.
"For any startup, getting off the ground is the biggest challenge. While funding is a problem most startups face after a certain stage, a small cash influx at the initial period can be often times pivotal to a startup, and make a difference between its existence and closure; and hence Rs. 40,000 shall be a significant boost for any young startup. Accordingly, GUSEC is reaching out to all students and faculty of the university by way of SMS, email, social media and other means to ensure maximum persons can apply to take benefit of this opportunity," said Rahul Bhagchandani, Hon. CEO of GUSEC.
Last year, GUSEC had awarded 12 startups with Rs. 40,000 each from CSR funds raised through GCSRA and the success of that initiative has led to JumpStart.
To apply, individuals / teams need to fill the application form at www.gusec.edu.in/jumpstart on or before March 19, 2017, following which ideas shall be scrutinised by a panel of experts and shortlisted applicants will be interviewed for final selection.